"The conference [today] will be focusing on governance, the rule of law and human rights, economic and social development, and aid effectiveness and coordination," Straw said. "The breadth and depth of the discussions demonstrate clearly that the international community remains strongly committed -- even more strongly than ever -- to supporting the people of Afghanistan for the long term."
The United States and Britain already have pledged about $2 billion in new aid.
Afghan President Hamid Karzai predicted that total pledges from more than 60 donor countries could total $5 billion by the end of the day today.
A 15-page "London Compact" was due to be signed by delegates today. It outlines future cooperation between Kabul and the international community. It includes target goals for both.
Foreign Minister Abdullah Abdullah
Foreign Minister Abdullah Abdullah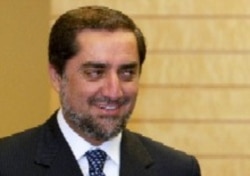 Abdullah Abdullah (epa)


Afghan Foreign Minister ABDULLAH ABDULLAH on January 21 spoke by telephone with RFE/RL Afghan Service correspondent Zarif Nazar. Abdullah discussed the most recent videotaped message from Al-Qaeda leader Osama bin Laden, the current state of the Taliban, terrorist attacks in Afghanistan, and the upcoming London conference on the Afghanistan Compact.
To read the complete interview,click here.