Magomedov, who is 75, cited age as the reason for stepping down from the chairmanship of the State Council collective presidency.
He had been in charge of the republic since 1983. His current term in office had been due to expire in July.
Under new rules introduced last year, regional leaders are no longer directly elected but are nominated by Russian President Vladimir Putin and then approved by the local legislature.
Putin's envoy to southern Russia, Dmitry Kozak, is due to announce Putin's nominee.
Police said security in the regional capital Makhachkala had been boosted ahead of the session.
Daghestan, which borders Chechnya, has seen a rise in violence blamed on militants and crime gangs.
(Interfax, ITAR-TASS)
The Chechnya Conflict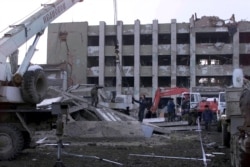 The aftermath of a December 2002 Chechen resistance attack on the main government building in Grozny (epa)


CHRONOLOGY
The
fighting in Chechnya
has raged, with short breaks, since 1994. It has brought misery, death, and destruction to the North Caucasus republic and to Russia as a whole. View an
annotated timeline
of the conflict.

ARCHIVE
RFE/RL's complete coverage of Russia's war-torn Republic of Chechnya.