Pro-Moscow Chechen administration head Alu Alkhanov proposed Kadyrov's candidacy on March 2 to succeed Sergei Abramov, who submitted his resignation on February 28, reportedly citing health reasons. Abramov was injured in a car crash in Moscow Oblast in November 2005, and Kadyrov has been discharging his duties since then.
Most Powerful Man In Chechnya
Most Russian commentators agree that Kadyrov's promotion will merely legalize his status as the most powerful man in Chechnya. Kadyrov was named first deputy prime minister on May 10, 2004, the day after his father and Alkhanov's predecessor, Akhmed-hadji Kadyrov, was killed by a terrorist bomb in Grozny.
Just hours after the bombing, Russian television screened footage of a meeting between Ramzan Kadyrov and Russian President Vladimir Putin, who has consistently praised the younger Kadyrov and in December 2004 bestowed on him one of Russia's most prestigious awards, the Order of Hero of Russia.
Many doubt whether Kadyrov has the qualities required for the post of prime minister. As former Russian Security Council Secretary Ivan Rybkin pointed out in an interview with RFE/RL's North Caucasus Service last year, Kadyrov has only a rudimentary education. Nonetheless, in 2004, he was reported to have acquired a degree by correspondence from a university in Daghestan, and the Russian Academy of Natural Sciences made him an honorary member earlier this year.
Kadyrov was given overall responsibility last year for overseeing the process of reviewing applications for financial compensation from Chechens whose homes have been destroyed during the fighting of the past 11 years. (Abubakir Baibatyrov, the official who formerly held that post, has been arrested and charged with large-scale embezzlement.)
But observers in Grozny have suggested to the London-based Institute for War and Peace Reporting that Baibatyrov has been made a scapegoat, and that members of the Chechen government continue to embezzle funds earmarked for reconstruction. Some believe that Kadyrov routinely demands a percentage of the stolen cash.
His ability to control and even blackmail colleagues and subordinates derives in the first instance from the so-called presidential security service loyal to him, and known as the "kadyrovtsy." That force numbers several thousand men, including some former resistance fighters. Russian human rights activists allege that the "kadyrovtsy" engage with impunity in the random abductions and killings of innocent civilians that are an everyday occurrence in Chechnya. In late 2003, Russian journalist Anna Politkovskaya claimed that Kadyrov ran a private prison located at a former dairy farm in his native village of Tsentoroi in the Kurchaloi district.
The brutality of his henchmen has made Kadyrov one of the most hated and feared man in Chechnya. According to RFE/RL's North Caucasus Service, he trades on that reputation to blackmail other senior officials, possibly even Alkhanov. His economic interests reportedly encompass the oil sector (Chechnya's annual oil production is currently estimated at around 2 million tons) and a string of gasoline stations in both Chechnya and neighboring Daghestan.
In a bid to offset popular perceptions of him as vicious, ruthless, and all-powerful, Kadyrov has financed the construction of a boxing club for adolescent boys in his home village and a $7.8 million water theme park for children in Gudermes, east of Grozny.
In his capacity as acting prime minister, Kadyrov has issued pronouncements on a range of subjects, from the need to ban gambling in Chechnya, to the benefits of polygamy to redress the imbalance between the sexes, to demands for a redrawing of borders to restore to Chechnya territory that is currently part of Daghestan. But Moscow has overruled him on several occasions, most recently over his demand that the Danish Refugee Council be barred from engaging in further humanitarian work in Chechnya in light of the publication in Danish newspapers of cartoons depicting the Prophet Muhammad.
De Facto To De Jure
Some have speculated that Kadyrov already has so much power that failure to appoint him to a position commensurate with the influence he actually wields might drive him to oppose Moscow. Mikhail Babich, one of Abramov's predecessors as Chechen prime minister, explained to "Nezavisimaya gazeta" on March 1 that "the moment has arrived for Ramzan Kadyrov where he needs to legalize de jure the power he already wields de facto." With that in mind, Abramov may have been pressured to step down in order to enable Moscow to appease Kadyrov, and thereby avoid the complications that would inevitably result should the armed "kadyrovtsy" turn against the Alkhanov regime.
And even before Abramov's automobile accident, many Russian commentators predicted that Kadyrov would succeed Alkhanov as republican head as soon as he reached the minimum age of 30 (he was born on October 5, 1976).
But some experts have sounded a note of caution about Kadyrov's presidential chances. Aleksei Malashenko of Moscow's Carnegie Center conceded in an interview published in "Nezavisimaya gazeta" on February 14 that Kadyrov "will almost certainly become president," but added that in order to do so "he must first radically change."
Chechen society, Malashenko explained, does not want as its future leader "a man who drives around Grozny in a Hummer and feels himself master of all he surveys."
Dmitry Kozak, President Putin's envoy to the Southern Federal District and arguably the senior Russian official best-informed about the true situation on the ground in Chechnya, has likewise implicitly ruled out the possibility of Kadyrov's elevation to the republic's most senior post in the near future. Kozak was quoted on March 1 by RIA Novosti as saying that Kadyrov is still too young, and he added that the question will arise only when Alkhanov's term in office expires. That will be only in early October 2008. But as Malashenko pointed out, leaders in Chechnya tend to die prematurely -- there is no guarantee that Alkhanov will live to see the end of his term.
The Chechnya Conflict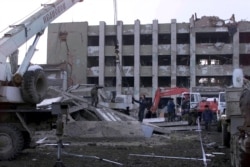 The aftermath of a December 2002 Chechen resistance attack on the main government building in Grozny (epa)


CHRONOLOGY
The
fighting in Chechnya
has raged, with short breaks, since 1994. It has brought misery, death, and destruction to the North Caucasus republic and to Russia as a whole. View an
annotated timeline
of the conflict.

ARCHIVE
RFE/RL's complete coverage of Russia's war-torn Republic of Chechnya.