Afghanistan Finds Bird Flu, Strain Not Yet Known
Afghan children hold posters produced by the UN as part of preventative campaign against bird flu (file photo) (epa) March 13, 2006 -- A UN spokesman says bird flu has been found in five birds  in Afghanistan.
Spokesman Adrian Edwards told reporters in Kabul that it is not yet known whether the birds died of the H5N1 strain of the flu, which has been fatal to humans in rare cases. He said tests are now being carried out. The birds were found in Kabul and the eastern city of Jalalabad.
Bird flu has spread rapidly around the world in recent weeks, carried mostly by migrating wild birds.
(Reuters, AP)
Interview With UN FAO's Erwin Northoff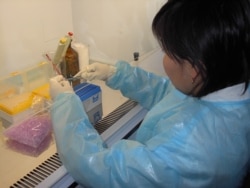 An expert at the National Virology Laboratory of the Kyrgyz Health Ministry (courtesy photo)
GETTING READY: Many have expressed concern about the ability of Central Asian countries to come to grips with a possible bird-flu outbreak. RFE/RL Turkmen Service correspondent Muhammad Tahir spoke with Erwin Northoff, news coordinator for the UN's Food and Agriculture Organization (FAO), about the issue. ....(more)