PRAGUE, May 24, 2006 (RFE/RL) -- Nodira Hidoyatova tells RFE/RL's Uzbek Service she is happy to have been released and reunited with her family.
"Happiness. Now I know what it means," she said. "Happiness means meeting my loved ones, it means freedom. Happiness is freedom after the horror I experienced. It was psychological horror, not physical. I can't say I was physically threatened, no. But emotionally, it was hard to be away from my relatives, from my loved ones."
Uzbek authorities jail their opponents by charging them with economic crimes in order to support an ailing national economy with bail money, back taxes, and the confiscation of property.
Surprise Reunion
The activist's release was most welcomed by her two children. Hidoyatova's 17-year old daughter, Malika, spoke to RFE/RL's Uzbek Service. "Our mom returned to us, we haven't seen her for seven months," she said. "Of course we are full of joy."
The 38-year-old opposition activist was released on May 23 when the court commuted her sentence to a seven-year suspended jail term, the first three years of which are probation.
That came as a surprise for Hidoyatova's family. Her sister Nigora, who heads the unregistered Ozod Dehqonlar (Free Peasants) opposition party, spoke to RFE/RL today.
"I don't know why they made [this decision]," she said. "I want to believe that they thought about it carefully and thoroughly, and finally the reason and principles of humanism prevailed. I think they also took into account that Nodira has young kids."
Charged With Serious Crimes
Hidoyatova was arrested in December upon returning from Moscow, where she had held a news conference calling on Russia to end its support for Uzbek President Islam Karimov and acknowledge human-rights abuses in Uzbekistan.
She was found guilty in March of economic crimes, embezzlement, and tax evasion, among other things. The court found Hidoyatova guilty of committing "serious and especially serious crimes that have damaged the Uzbek state" and ruled that her company, Buyuk Siymolar, must pay $230,000 in back taxes. Hidoyatova said she was innocent of the charges.
The activist's detention and the conduct of her trial caused concern among international rights groups. Maisy Weicherding, an Amnesty International researcher on Uzbekistan, tells RFE/RL the group welcomes Hidoyatova's release.
"We welcome the fact that she is no longer in prison," Weicherding said. "Of course, she still has a conditional sentence. So, you know, she could, if she breaks the condition, be sent back to prison."
Independent human-rights groups as well as Hidoyatova's supporters have said the case was politically motivated as Sunshine Uzbekistan has been a vocal critic of the Uzbek government and demanded Karimov's resignation after the government's crackdown on protesters in the eastern Uzbek city of Andijon in May 2005.
Surat Ikramov, the head of the Center for Human Rights Initiatives in Tashkent, also welcomed Hidoyatova's release. However, he tells RFE/RL that Hidoyatova should not have been imprisoned at all.
"Charges against her were not proved but the court sentenced her to a lengthy prison term anyway," he said. "There were political reasons: she established a coalition. That coincided with the Andijon events. We first heard of the coalition in April 2005. After the Andijon events, the government increased pressure on opposition and human-rights activists."
In its ruling on May 23, the Tashkent court upheld Hidoyatova's conviction, saying her remaining sentence will be lifted if no new charges are brought against her during probation. She was also required to pay 120 million Uzbek soms ($100,000) of the $230,000 in taxes the court says her business owes. Hidoyatova told RFE/RL that her friends and relatives collected the money and paid for her.
Hidoyatova was asked to pay $50,000 when she was first arrested. But the activist denied breaking any financial regulations and refused to pay.
Others Still Detained, Charged
It is not clear whether the change in Hidoyatova's sentence will affect jailed Sunshine coalition leader Sanjar Umarov.
A wealthy businessman, Umarov was detained in October and sentenced in March to 11 years in prison on charges of tax evasion, embezzlement, and money laundering.
The sentence was later reduced to seven years and the judge also ruled that Umarov must pay more than $8 million in fines while banning him from any business activity in Uzbekistan for three years after his release.
Hidoyatova tells RFE/RL that Umarov was sent to a prison colony in Bukhara in central Uzbekistan earlier this week. But Ikramov doesn't think he will be released.
"It is unlikely that Sanjar Umarov will get the same [verdict] because the amount he has to pay [in back taxes] is huge," he said. "It will be difficult to collect that much money. As we learned, Nodira Hidoyatova's friends and relatives had to collect the money for her."
Ikramov says Uzbek authorities jail their opponents by charging them with economic crimes in order to support an ailing national economy with bail money, back taxes, and the confiscation of property.
Hidoyatova's sister says Nodira will continue a legal battle to prove her innocence.
"After her release on suspended terms, she has the possibility to continue to fight in an economic court to prove that she is innocent," she said. "And the economic court will make a decision. This [battle] is before her."
Nodira Hidoyatova is resolute in continuing her public activities. But she says she will do it more "professionally" and "diplomatically."
Meanwhile, other critics of the Uzbek government remain on trial.
Mutabar Tojiboeva, a well-known rights activist from Ferghana, was sentenced in March to eight years in prison on more than a dozen of charges. She has appealed.
Two other human-rights activists are soon to be brought before the court on extortion charges. A spokesman for the Interior Ministry, Alisher Sharipov, said on May 23 that investigators have concluded that Azamjon Farmonov and Alisher Karamatov attempted to blackmail a resident of Jizzakh, in central Uzbekistan. He said the probe is over and the case is going to court.
Farmonov and Karamatov work for the Human Rights Society of Uzbekistan (HRSU). They were arrested on April 29, soon after they had published a report on the abuse of farmers' rights in the Jizzakh region.
The HRSU denies the accusations brought against its two members, saying they are politically motivated.
Andijon Refugees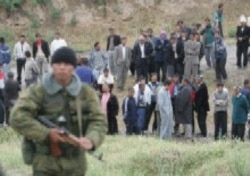 Uzbek refugees in Kyrgyzstan on May 19, 2005 (epa)


NO PLACE TO GO: More than 400 Uzbeks who fled in panic in the hours and days after troops opened fire on demonstrators in Andijon one year ago have been granted political asylum outside Central Asia. In limbo for weeks in Kyrgyzstan as they and the world tried to come to grips with the bloody events of May 12 and 13, they feared for their lives and the lives of family members as the official crackdown continued.... (more)
RELATED ARTICLES
Andijon Refugees In Romania Have Escaped Violence, But Not Heartache
Refugees In Romania Await Decision On Destination
Refugees Want To Return Only If Regime Changes


THE COMPLETE STORY: A dedicated webpage bringing together all of RFE/RL's coverage of the events in Andijon, Uzbekistan, in May 2005 and their continuing repercussions.
CHRONOLOGY
For an annotated timeline of the Andijon events and their repercussions, click here.