Pakistani Forces Kill Up To 20 Militants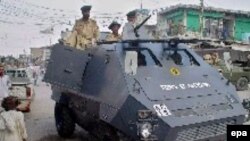 Pakistani troops in North Waziristan (file photo) (epa) June 10, 2006 -- A Pakistani army spokesman says Pakistani security forces have killed up to 20 people in an assault on a militant hideout near the Afghan border.
Major-General Shaukat Sultan said artillery and helicopters had before dawn attacked a compound near the village of Dattakhel, in the tribal region of North Waziristan.
He said Pakistani security forces believe 15 to 20 militants were killed, and about 70 percent of the hideout was destroyed.
He added that the militants at the camp were believed to include foreigners.
(Reuters, AP)