The meeting marks the fifth anniversary of the group that aims to bolster regional cooperation and serve as a counterweight to the United States.
Participants are due to sign a number of security and transportation agreements, and discuss ways to help Afghanistan combat drug trafficking.
The controversy over Iran's nuclear program is also expected to be on the agenda.
"We know the EU-3 [Britain, France, and Germany] have submitted a package for a solution to the Iran nuclear issue and have briefed Iran on it," Chinese Foreign Ministry spokesman Liu Jianchao told journalists on June 14. "We know Iran is looking into this very seriously. We hope all parties will have a positive response to this, and that they can adopt a pragmatic and flexible attitude and can create the conditions necessary to return to discussions."
Iran has observer status in the SCO and has recently announced that it intends to join the body.
Iranian President Mahmud Ahmadinejad, speaking at the opening of the summit, called on SCO members to resist "domineering powers" in international affairs.
Ahmadinejad also said Iran is prepared to host a meeting of SCO energy ministers to promote cooperation in developing energy resources.
China's National Oil and Gas Exploration and Development Corporation (CNODC) announced today it will spend $210 million to explore for oil and gas in Uzbekistan. The company planst to sign a number of joint ventures with the Uzbek state energy company, Uzbeknegtegaz.
"Shanghai Security News" says the two sides have agreed to drill in five unspecified locations.
Kazakhstan is expected to take over the SCO secretariat from China.
Mongolia, and Pakistan -- which, like Iran, have observer status -- will be represented by their presidents. India -- which also has observer status -- has sent a high-ranking government delegation. Afghan President Hamid Karzai will attend as a guest.
On the eve of the summit, China signed a deal to build a highway in Tajikistan and announced a financial plan to build a hydroelectric station in Kazakhstan. Beijing also secured Uzbekistan's support against China's Muslim Uyghur separatist minority.
(compiled from Xinhuanet, Central Asian, and Russian news
agencies)
China In Central Asia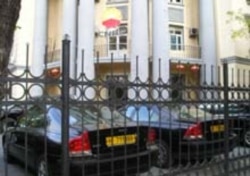 The Almaty,Kazakhstan, office of China's National Petroleum Corporation (RFE/RL)
BEIJING ON THE RISE:
The September 11, 2001, terrorist attacks against the United States prompted Washington to topple the Taliban regime in Afghanistan. At the time, many predicted the United States would gain a new foothold in Central Asia: new U.S. military bases appeared in Kyrgyzstan and Uzbekistan, U.S. foreign aid increased, and much U.S. attention was lavished on the region. Russia and China looked on warily. But the pendulum may be swinging back in Moscow's and Beijing's favor. China, especially, has expended great effort at winning friends in Central Asia and is becoming a force to be reckoned with
....(more)
RELATED ARTICLES
Turkmenistan-China Pipeline Project Has Far-Reaching Implications
Central Asia Looks To Fuel Asia's Economic Boom
The Geopolitical Game In Central Asia
ARCHIVE
To view an archive of RFE/RL's coverage of China, click here.

SUBSCRIBE
For weekly news and analysis on all five Central Asian countries by e-mail, subscribe to "RFE/RL Central Asia Report."