Refugee department official Agha Jan Nazari says that the team, mainly doctors and nurses, were traveling by bus to a refugee camp in Kandahar's Zairai district when unidentified men hijacked the vehicle.
Also in Kandahar Province, the Afghan Interior Ministry says a suspected suicide bomber attacked a NATO-led ISAF convoy today. An AP reporter on the scene said a U.S. solider was wounded.
Elsewhere in southern Afghanistan, a suicide bomber targeted a NATO patrol in Tirin Kot district of southern Oruzgan Province today, killing himself, a civilian, and wounding at least six others.
Oruzgan police chief Mohammad Qasim said that police were chasing the bomber when he detonated his explosives.
(AFP, AP, Reuters)
The Afghan Insurgency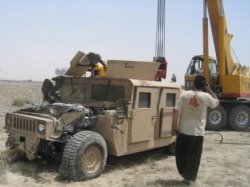 A U.S. military vehicle damaged by insurgents near Kandahar (epa)
HOMEGROWN OR IMPORTED? As attacks against Afghan and international forces continue relentlessly, RFE/RL hosted a briefing to discuss the nature of the Afghan insurgency. The discussion featured Marvin Weinbaum, professor emeritus of political science at the University of Illinois at Urbana-Champaign, and RFE/RL Afghanistan analyst Amin Tarzi.
LISTEN
Listen to the entire briefing (about 83 minutes):
Real Audio
Windows Media
ARCHIVE
RFE/RL's
coverage of Afghanistan
.
SUBSCRIBE
For weekly news and analysis on Afghanistan by e-mail,
subscribe to "RFE/RL Afghanistan Report."