On the first day of his visit, Musharraf pledged cooperation with Afghanistan in the battle against Al-Qaeda terrorists, Taliban militants, and what he called the "Talibanization" of society.

Musharraf also defended his government's recent cease-fire with militants in the North Waziristan tribal region along the Afghan border, saying Pakistani authorities would not permit the area to be turned into a terrorist sanctuary.

The visit is regarded as a further step to strengthen relations that have been strained by charges and countercharges of laxity in pursuing cross-border terrorists and insurgents.

A senior Pakistani army spokesman on September 6 dismissed as "fabricated" and "absurd" a U.S. news report suggesting that Pakistani authorities would not capture Al-Qaeda leader Osama bin Laden if they had the chance.

Some experts believe bin Laden might be hiding in the difficult-to-police tribal areas of Pakistan, near the border with Afghanistan.
Pakistan and Afghanistan also recently agreed within the framework of a quadrilateral group that includes the United States and NATO to better coordinate patrols along their volatile 2,430-kilometer border.

(AP, AFP)
The Afghan Insurgency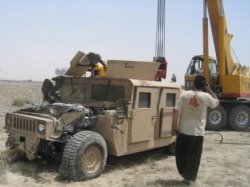 A U.S. military vehicle damaged by insurgents near Kandahar (epa)
HOMEGROWN OR IMPORTED? As attacks against Afghan and international forces continue relentlessly, RFE/RL hosted a briefing to discuss the nature of the Afghan insurgency. The discussion featured Marvin Weinbaum, professor emeritus of political science at the University of Illinois at Urbana-Champaign, and RFE/RL Afghanistan analyst Amin Tarzi.
LISTEN
Listen to the entire briefing (about 83 minutes):
Real Audio
Windows Media
ARCHIVE
RFE/RL's
coverage of Afghanistan
.
SUBSCRIBE
For weekly news and analysis on Afghanistan by e-mail,
subscribe to "RFE/RL Afghanistan Report."