Bush To Meet Karzai, Musharraf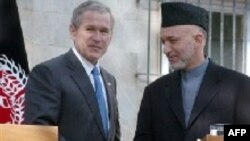 U.S. President George W. Bush (left) shakes hands with Afghan President Hamid Karzai in Kabul this March (AFP) September 14, 2006 -- U.S. President George W. Bush will meet with leaders of Pakistan and Afghanistan in Washington in late September.
The White House said Bush and his Pakistani counterpart Pervez Musharraf will review their "strategic partnership" on September 22 and discuss cooperation in energy, economic development, and counterterrorism.
Bush and Afghan President Hamid Karzai are due on September 26 to discuss good governance, countering militant extremists and drug-trafficking, and rebuilding Afghanistan's economy.
(AFP, dpa, AP)

RFE/RL Afghanistan Report

SUBSCRIBE For regular news and analysis on Afghanistan by e-mail,
subscribe to "RFE/RL Afghanistan Report."