NATO Says Afghan Troop Pledges Could Take Weeks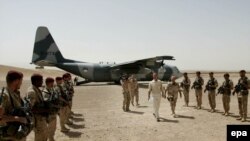 Dutch Defense Minister Henk Kamp (center) visiting Dutch troops in Oruzgan Province, Afghanistan, on September 13 (epa) September 14, 2006 -- NATO says it may not be until the end of this month before member countries of the alliance commit to sending up to 2,500 more troops to southern Afghanistan to help battle Taliban militants.
NATO countries failed to offer fresh troops during a meeting September 13 in Brussels, Belgium.
NATO spokesman James Appathurai said some NATO allies had given "positive indications" that they could send extra forces, but he said formal commitments might not be made until a September 28-29 NATO defense ministers meeting in Slovenia.
But Poland said today, one day after the Brussels meeting, that it will send 1,000 new troops to join its existing 100-strong contingent in Afghanistan in response to NATO calls for reinforcements.
"Poland will increase its contingent in Afghanistan," Polish Defense Ministry spokesman Leszek Laszczak said. "We will send 1,000 additional troops from February."
(AP, Reuters)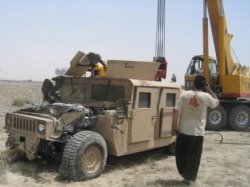 A U.S. military vehicle damaged by insurgents near Kandahar (epa)
HOMEGROWN OR IMPORTED? As attacks against Afghan and international forces continue relentlessly, RFE/RL hosted a briefing to discuss the nature of the Afghan insurgency. The discussion featured Marvin Weinbaum, professor emeritus of political science at the University of Illinois at Urbana-Champaign, and RFE/RL Afghanistan analyst Amin Tarzi.
LISTEN
Listen to the entire briefing (about 83 minutes):
Real Audio
Windows Media
ARCHIVE
RFE/RL's
coverage of Afghanistan
.
SUBSCRIBE
For weekly news and analysis on Afghanistan by e-mail,
subscribe to "RFE/RL Afghanistan Report."