NATO generals were meeting in Warsaw a day after the alliance's commander, U.S. General James Jones, called for 2,000 more troops and extra aircraft to confront the deadliest fighting in Afghanistan since the fall of the Taliban.
The meeting came as NATO reported its troops killed more than 20 Taliban militants in a military offensive in southern Afghanistan.
After the first round of talks, NATO spokesman Colonel Brett Boudreau of Canada said NATO military chiefs agree that they need to bolster troops in Afghanistan.
Ahead of the meeting in Poland, the chairman of the NATO Military Committee, General Ray Henault of Canada, said talks are to focus on all aspects of NATO activities in Afghanistan.
"We will be discussing the full range of activities in Afghanistan, including our troop level, our progress, especially in Stage 3 activities [of NATO's expansion in Afghanistan], as you are aware, in the southern region and what we need to do to continue sustaining Afghanistan as we now prepare for the next stage of expansion, which will be Stage 4, the eastern part of Afghanistan," Henault said.
The discussions in Warsaw are expected to last three days.
(Reuters, AP, AFP)
The Afghan Insurgency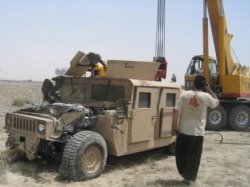 A U.S. military vehicle damaged by insurgents near Kandahar (epa)
HOMEGROWN OR IMPORTED? As attacks against Afghan and international forces continue relentlessly, RFE/RL hosted a briefing to discuss the nature of the Afghan insurgency. The discussion featured Marvin Weinbaum, professor emeritus of political science at the University of Illinois at Urbana-Champaign, and RFE/RL Afghanistan analyst Amin Tarzi.
LISTEN
Listen to the entire briefing (about 83 minutes):
Real Audio
Windows Media
ARCHIVE
RFE/RL's
coverage of Afghanistan
.
SUBSCRIBE
For weekly news and analysis on Afghanistan by e-mail,
subscribe to "RFE/RL Afghanistan Report."