The defendants had appealed the August 31 verdicts, claiming that confessed -- which they later recanted -- had been given under duress.
Supreme Court judge Abrashid Zhukenov told a news briefing in Astana today that all of the defendants were guilty.
Former security officer Rustam Ibragimov was sentenced to death, while his co-defendants received jail terms of between three and 20 years. Kazakhstan introduced a moratorium on executions in 2003.
The defendants included current and former security personnel and state officials, fueling opposition claims that the execution-style slayings were politically motivated rather than the result of a personal feud, as prosecutors alleged.
At his press conference, judge Zhukenov said claims of more senior official involvement were "unsubstantiated," a finding that is unlikely to appease critics of the investigation and ensuing trial.

The case has been followed closely by rights groups and the victims' families, who have dismissed the proceedings as a "farce" aimed at covering up the true organizers of the assassinations.
Iconic Figure

Sarsenbaev, a former government minister and ambassador to Russia, was among the most forceful antigovernment politicians in a country where violence or prosecution often claim key opposition leaders and authorities keep a tight lid on dissent.

The bodies of Sarsenbaev and two aides, Baurzhan Baibosyn and Vasily Zhuravliov, were found in a gorge outside Almaty on February 13.

Sarsenbaev was among the founders of the Naghyz Ak Zhol (True Bright Path) opposition party in April 2005, after a split in the Ak Zhol party.

Sarsenbaev had been the object of government pressure ahead of the presidential election in December 2005, when incumbent Nursultan Nazarbaev won in a landslide. The Organization for Security and Cooperation in Europe (OSCE) called that vote deeply flawed, citing ballot-stuffing, intimidation, interference, campaign restrictions, and other violations.

(Interfax-Kazakhstan, Kazakhstan Today)
Kazakhstan's Fallen Opposition
Kazakhstan's Fallen Opposition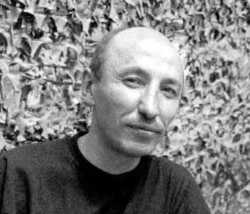 Slain Kazakh journalist Askhat Sharipzhanov (undated RFE/RL file photo)
February 13, 2006:
Altynbek Sarsenbaev
-- a leader of the Kazakh opposition, co-chairman of the Naghyz Aq Zhol party, former minister of information, former Kazakh ambassador to Russia, former secretary of Kazakhstan's Security Council -- is found dead with his bodyguard and his driver, shot to death, execution style, with their hands bound behind their backs.
November 11, 2005: Zamanbek Nurkadilov-- prominent Kazakh politician, former mayor of Almaty, former Minister of Extraordinary Situations, and since a vocal critic of President Nursultan Nazarbaev since March 2004 -- is found shot to death, with two shots in his chest and one in his head. Kazakh authorities officially rule the case a suicide.
June 2, 2005: Batyrkhan Darimbet -- opposition journalist and editor in chief of the weekly AZAT -- is killed in what is officially reported as a traffic accident. Relatives and activists assert that it was a political killing.
December 19, 2004: Erzhan Tatishev -- head of Kazakhstan's largest bank, TuranAlemBank -- is killed in what was officially described as a hunting accident. Kazakh political observers allege that it was a premeditated assassination.
July 20, 2004: Askhat Sharipzhan-- independent journalist and political commentator for NAVI online -- dies of injuries sustained several days earlier in what was officially reported as a hit-and-run accident. Relatives and colleagues believe it was an assassination.
November17, 2002: Independent journalist Nuri Muftakh is killed in what is officially reported as a traffic accident. Colleagues and activists regard the death as suspicious.
January 4, 2002: Human rights activist Aleksei Pugaev is found dead, the victim of a hit-and-run car accident. Colleagues regard the circumstances as suspicious and no one is ever arrested in connection with the death.
(compiled by RFE/RL's Kazakh Service)
RELATED ARTICLES
Sarsenbaev Murder Trial Begins
Kazakh President Tries To Calm Growing Political Crisis
Nazarbaev Landslide Buries Future Problems
Nazarbaev Touts Stability In Run-Up To Election
ARCHIVE
To view an archive of RFE/RL's coverage of Kazakhstan, click here.

SUBSCRIBE
For weekly news and analysis on all five Central Asian countries by e-mail, subscribe to "RFE/RL Central Asia Report."