The statement was issued on December 28.
"There have been slanderous statements and articles written by certain so-called political analysts in the Russian media about a coup and an illegitimate transfer of power that allegedly took place in Turkmenistan," Turkmen Foreign Minister Rashid Meredov said on state television on December 28. "All of those insinuations are aimed at giving the world community a false impression of the real situation and events in Turkmenistan. In this respect, the Turkmen Foreign Ministry is authorized to declare that the said statements have absolutely nothing to do with reality."
"Turkmenistan is a rich and stable state that has achieved tremendous successes in the years of independence, having in practice secured political, economic and food security," Meredov continued. "Therefore, we declare that no provocations, no matter who perpetrates them, can deter us from the steadfast course of development and the democratic processes set forth by the great President Saparmurat Turkmenbashi."
Turkmen Ambassador to Russia Khalnazar Agakhanov also raised the issue with Russian Deputy Foreign Minister Grigory Karasin the same day.
"Such publications reflect only the opinion of certain reporters and don't reflect the official position of the Russian leadership," Karasin responded.
(turkmenistan.ru, ITAR-TASS, Interfax)
Saparmurat Niyazov, 1940-2006
Saparmurat Niyazov, 1940-2006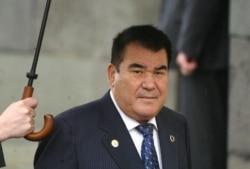 Turkment President Saparmurat Niyazov (bymedia.net)

ERA OF UNCERTAINTY. The death of Turkmen President Saparmurat Niyazov ends an era and begins a period of great uncertainty in Turkmenistan....(more)
RELATED ARTICLES
Could Niyazov's Death Lead To Political Struggle, Instability?
President's Death Brings Muted World Reaction
Energy Analyst Discusses Impact Of Niyazov's Death
Niyazov's Death Prompts Integration Hopes, Gas Worries In Russia
ARCHIVE
RFE/RL's coverage of
Turkmenistan
.