Russian, British Ice-Chess Players Race Against Thaws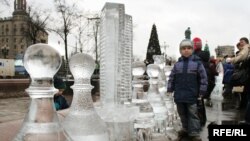 The ice-chess competition in Moscow today (RFE/RL) January 11, 2007 -- The chess pieces started disappearing from the board even before the game had begun.
The unseasonably warm winter in both Moscow and London gave a special sense of urgency to a video-relay match played there today as the chess pieces -- made of ice -- were steadily melting away.
The game -- in which Russian and British chess masters Anatoly Karpov and Nigel Short faced off alongside celebrities and young talents -- ended in a draw.
(compiled from agency reports)