RFE/RL spoke with, Aytkul Samakova, an adviser to Kazakh President Nursultan Nazarbaev on the topic of gender equality since Kazakhstan joined the convention in 1998.
Samakova tells RFE/RL that Kazakhstan's legal framework incorporated the issue of gender equality even before it joined the convention.
Cultural traditions have in the past meant that domestic violence was hardly, if ever, reported to the authorities -- in Kazakhstan and other Central Asian countries. But Samakova sees progress on this.
She lists what she says are some of her country's achievements. Samakova says women constitute 10 percent of representatives in Kazakhstan's parliament and 19 percent in local and city councils. She claims that figure is the highest among in the CIS countries.
Four heads of ministries are women, Samakova says, which is one-quarter of the total number.
Samakova says there is a presidential directive to increase the number of women in executive level positions to 30 percent by 2016.
Changes With Independence
Cultural traditions have in the past meant that domestic violence was hardly, if ever, reported to the authorities -- in Kazakhstan and in other Central Asian states as well. Things started to change rapidly after Kazakhstan gained independence in 1991, Samakova says.
"The independence allowed women to feel, how should I say it -- more civilized?" she says. "Women started raising this issue and we realized that the problem of domestic violence exists. We created in most regions and towns crisis centers where victims of such violence can cope, adapt and where they are being helped with finding work, filling legal papers if necessary and going to court. Certain paragraphs in Kazakhstan's Criminal Code were enhanced to offer better protection from domestic violence."
But Samakova says there are also some challenges. One is what she says is the prevailing custom in many industries to appoint women to mid-level managerial positions, where they earn less money than their male superiors.
"Yes, [pay inequality] exists, but not because they hold equal positions but are paid different salaries -- no, not at all," Samakova says. "They are paid less than their male counterparts just because their position is lower. If a man is a top executive in a given industry -- women as a rule are at the mid-level. Somehow this [situation] has become routine. We recognized this [as inappropriate] and currently our commission is looking into the matter."
Committee Continues Work
Dubravka Simonovic of Croatia was elected on January 15 as the Committee on the Elimination of Discrimination Against Women's new chairperson.
"We are trying to see how they are really providing nondiscrimination of women in different fields," Simonovic said. "And that nondiscrimination should also include all obligations of state parties to prevent violence against women, to protect women from violence, also including domestic violence, and to punish perpetrators."
The convention defines discrimination against women as "any distinction, exclusion, or restriction made on the basis of sex" that curbs women's rights and freedoms.
Since its implementation in 1979, more than 180 countries have ratified it. Iran and the United States, for example, are among those who neither ratified nor acceded to the convention and do not participate in its work.
The committee's session runs through February 2.
Central Asian Cinema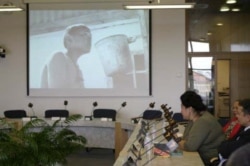 Gulnara Abikaeyeva's June 29 presentation in Prague (RFE/RL)
EAST OF THE WEST:
On June 29, RFE/RL's Prague broadcasting center hosted a presentation by
GULNARA ABIKEYEVA
, director of the Central Asian Cinematography Center in Almaty, Kazakhstan. Abikeyeva is a leading expert on Kazakh and Central Asian cinema, a chairwoman of the jury of this year's East Of The West section of the Karlovy Vary film festival. Abikaeyeva gave an overview of major trends in Central Asian cinema since the 1960s. Abikeyeva has just completed a major DVD collection of the most popular films of the five Central Asian countries and is now beginning work on a similar collection of Central Asian documentaries.
LISTEN
Listen to the complete presentation (45 minutes):

Real Audio
Windows Media
Other Articles On Central Asian Culture:
Silk Road Revival Grows As More Sites Protected
Central Asian Directors Discuss Issues Behind The Camera
Ancient European Music Meets Central Asian Masters
Central Asian Masters Revive Old Ways Of Teaching Traditional Music
ARCHIVE
To view an archive of RFE/RL's reporting on culture throughout its broadcast area, click here.


THE COMPLETE STORY: Click on the icon to view a dedicated webpage bringing together all of RFE/RL's coverage of Kazakhstan, Kyrgyzstan, Tajikistan, Turkmenistan, and Uzbekistan.