First, a parcel bomb exploded in the crowded Bab al-Sharqi area, killing at least nine people and wounding 19.
Later, two cars packed with explosives blew up in quick succession near the Shorja market district. Those two blasts killed around 62 people.
The blast went off moments after a brief pause in work ordered by the Iraqi government to mark the first anniversary of a bomb attack on a holy Shi'ite shrine.
The bombing of the Al-Askari Mosque in Samarra on February 22 -- one year ago yesterday on the Muslim calendar -- sparked an upsurge in sectarian violence that has killed thousands.
(AFP, Reuters, AP)
On The Verge Of Civil War
On The Verge Of Civil War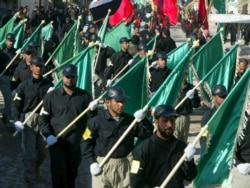 The Imam Al-Mahdi Army on parade (epa)
HAS THE CONFLICT IN IRAQ BECOME A CIVIL WAR? Many observers have concluded that the tit-for-tat sectarian violence that emerged after the February 2006 bombing of a mosque in Samarra has become a full-blown civil war.... (more)


RELATED ARTICLES
U.S. Media Starts Using 'Civil War' Label
Iraqi Prime Minister Under Fire From All Sides
U.S. Expert Discusses Prospects For Stabilization
President Says Iraq Needs Iran's Help
Saudi Arabia To Seal Off Border With Security Fence

THE COMPLETE PICTURE:
Click on the image to view RFE/RL's complete coverage of events in Iraq and that country's ongoing transition.