Turkmen Activist's Wife Appeals To Bush Over Arrest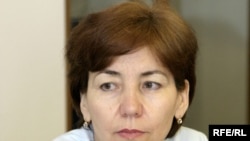 Tadjigul Begmedova (file photo) (RFE/RL) February 26, 2007 (RFE/RL) -- The wife of a Turkmen dissident has asked U.S. President George W. Bush for help following the arrest of her husband in Bulgaria.
Tadjigul Begmedova made her plea in an open letter published on the website of the exiled opposition Watan party.
Begmedova's husband, Annadurdy Khajiev, was arrested on February 19 in the Black Sea port city of Varna on embezzlement charges following notification by Interpol. He is a former senior Turkmen Central Bank official.
He now faces extradition to Turkmenistan.
Khajiev's supporters say his arrest was politically motivated and have demanded his immediate release.
Khajiev is a senior member of Watan whose sister, RFE/RL correspondent Ogulsapar Muradova,
died in a Turkmen jail
in 2006 after a trial described by international human rights groups as unfair.