However, RFE/RL correspondents in Turkmenistan have disputed the claims of high turnout in the election saying voting activity appeared lower.
The election was held to choose a replacement for the late President Saparmurat Niyazov, who ruled the country for more than two decades. Six men officially competed for the post in the first multi-candidate elections in Turkmenistan's history. All are members of the country's only legal political party.
Gurbanguly Berdymukhammedov, who took power after Niyazov died of heart failure in December, has been a prominent fixture in state-controlled media and was widely regarded as the front-runner.
Authorities have scheduled the inauguration of the new president for February 14.
No international organizations formally monitored the election, and human rights groups and Turkmen opposition groups have condemned the election process as neither free nor fair.
Russia's RIA-Novosti news agency quoted an exiled opposition figure, Watan (Homeland) party leader Hudayberdi Orazow, as saying, "We have quite enough evidence from Turkmenistan confirming that voters were much less active than claimed by the Central Electoral Commission."
Some foreign diplomats, however, said they were hopeful that the multicandidate vote, despite its flaws, could lead to gradual change and reform in what most regard as Central Asia's most-closed society.
(compiled from agency reports)
Human Rights In Turkmenistan
Human Rights In Turkmenistan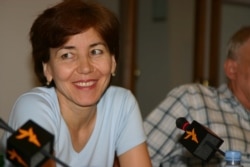 Tajigul Begmedova speaking at RFE/RL in Prague on July 21 (RFE/RL)
LIFE UNDER NIYAZOV:
On July 21, RFE/RL's Prague broadcasting center hosted a presentation by
TAJIGUL BEGMEDOVA,
chairwoman of the Bulgaria-based Turkmenistan Helsinki Foundation for Human Rights (THF). Begmedova discussed the human rights situation in Turkmenistan under President Saparmural Niyazov, focusing on the arrests in June of THF activists and RFE/RL Turkmen Service correspondent Ogulsapar Muradova. Begmedova, who graduated from the Institute of Economy in Moscow in 1987, fled Turkmenistan in 2002 and lives in exile in Sofia.
LISTEN
Listen to the complete presentation (36 minutes; presentation in Russian with consecutive translation into English):

Real Audio
Windows Media
Some RFE/RL Coverage Of Human Rights In Turkmenistan:
Media Coverage Of Leader Distracts From Real Problems
Authorities Cast Wide Net In Conspiracy Allegations
Embattled Turkmen Writer Honored Abroad
RFE/RL Correspondent Recounts Arrest
ARCHIVE
RFE/RL coverage of Turkmenistan.


THE COMPLETE STORY: Click on the icon to view a dedicated webpage bringing together all of RFE/RL's coverage of Kazakhstan, Kyrgyzstan, Tajikistan, Turkmenistan, and Uzbekistan.