RFE/RL correspondents in Turkmenistan, however, contradict this turnout information, reporting light turnouts in the capital Ashgabat and in the eastern Lebap Province.
Six men are officially competing for the presidential post in the first multicandidate election in the country's history.
Avdy Kuliev, a former Turkmen foreign minister and now a leader in Turkmenistan's opposition-in-exile, said today in Norway that the election cannot be considered legal since the candidates were all chosen by the Halk Maslahaty (People's Council), not by voters.
"If there were anything to note about these elections then it would be that these elections are not legal, they are not elections by the people," he said. "In my opinion, in order for Turkmenistan to get on a democratic path, within a year or less new, genuine elections should be carried out."
High Or Low Turnout?
The CEC reports that as of 1200 local time (0800 Prague time) -- just four hours after polling stations opened today -- some 66 percent of eligible voters had cast their ballots. Two hours later, the CEC said some 85 percent of voters had voted.
A man who had just voted appeared on Turkmen state television.
"I came to cast my vote in the morning to elect our new president," he said. "I cast my vote in favor of my favorite leader. After listening to the speeches of all of the candidates I cast my vote in support of a leader who can continue the way of Turkmenbashi. Praise to God that the election will go well and it will be completed smoothly."
Images of voting that were broadcast on the state-owned Altyn Asyr (Golden Age) channel showed mainly members of the armed forces dropping ballots into transparent voting boxes that appeared to be less than half full.
In the eastern Lebap Province, RFE/RL correspondents report a light turnout despite the fact officials reportedly warned the population there that they would not receive their monthly ration of six kilograms of flour if they failed to vote. Officials report a turnout in the province of 85.87 percent -- though reports on the ground indicate a very low number of voters.
Questioning The Election
One man in Lebap who did vote said this election looked like previous parliamentary and local administration elections. He also indicated he did not feel the voters are really deciding who will be the next Turkmen president.
"I just voted for the candidate I chose [to be the best]," he said. "I don't believe the promises candidates made before the election. If we talk about the organizational part of the election then there are no differences this time [as compared to previous times]. Having six candidates run for the presidential post is just a cover up. The results were already known before the election -- it was known who will become president. Even so, I attended the election in order to fulfill my duty as a citizen."
One woman in Ashgabat indicated she did not have "such great hope" that a new president will make a big difference.
"I participated in an election for the first time [today]," she said. "A lot of people came to vote, lots of old and young folks. We don't have such great hope, but we still have some hope that this candidate will become a real president. It would be great for us. Therefore we came and voted."
Gifts For Voters
Turkmen media were promising first time voters and the elderly that they would receive a gift if they turned out to vote. In an example of this shown by state television, a young man received a copy of former President Saparmurat Niyazov's book "Rukhnama" for casting his ballot.
Acting President Gurbanguly Berdymukhammedov is widely predicted to win today's election. Berdymukhammedov emerged from obscurity after Niyazov died in late December.
Citizens of Turkmenistan living outside the country were unable to vote in the presidential election and opposition candidates living in exile unable to run as candidates.
No Outside Participation
Turkmen embassies in Uzbekistan, Russia, and Europe did not make any arrangements for Turkmen citizens to cast their ballots.
Ogiljan is a young Uzbek woman who married a Turkmen and lived in Turkmenistan for eight years until she was deported by Turkmen authorities last year. She lives in Uzbekistan near the Turkmen border now and she told RFE/RL's Uzbek Service that she hopes the next Turkmen president will work to reunite her and others like her with their families in Turkmenistan.
"First, I want a fair president who will help establish good relations between the two peoples, [Turkmen and Uzbeks]," she said. "It would be great if Turkmen who live in Khorezm, [Uzbekistan], could go to Turkmenistan and visit their relatives and could see their parents."
Turkmenistan's CEC says it will have preliminary results from the presidential election by this evening. Polls close in Turkmenistan at 1800 local time (1400 Prague time).
(RFE/RL's Turkmen and Uzbek Services contributed to this report.)
Turkmenistan's Election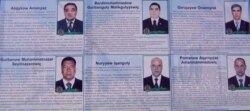 A billboard in Ashgabat depicting the candidates (OSCE)

A NEW DIRECTION. Turkmenistan holds its first presidential election with more than one name on the ballot following the death of President Saparmurat Niyazov.
RELATED ARTICLES
Explaining The Presidential Election

Sorting Out The Presidential Candidates

Could Presidential Vote Open New Chapter?

ARCHIVE
RFE/RL's coverage of
Turkmenistan
.