RFE/RL: What do you think about the whole process going on in Turkmenistan right now, with the new leadership in power?
David Merkel: I think the process in Turkmenistan right now, under the new leadership, is promising. Obviously, we're hopeful that the new president will become a progressive president who will look toward opportunities of enhancing Turkmenistan's sovereignty in a very tough region through building a greater economy, which I believe can happen more possibly if it engages more and more with the West and is open to reforms.
RFE/RL: Under Berdymukhammedov, some social reforms have started in the country. However, during his election campaign Berdymukhammedov didn't mention anything about the political reforms. It is reported that United States is ready for bilateral cooperation in a variety of sectors, including political issues. Can you elaborate on that?
Merkel: I believe it's in the U.S. interest to engage with Turkmenistan, to encourage Turkmenistan to take greater steps on political reforms. President Berdymhhammedov has provided an avenue for this to, working with them on education, working with them on health , working with them on agriculture. This provides an opportunity.
RFE/RL: The Russian monopoly in exporting Turkmen gas is obvious. In your opinion, given the new political climate in Turkmenistan, will the United States support any new gas-pipeline projects?
Merkel: Gazprom is going to remain relevant for Turkmenistan. Gazprom is going to remain relevant as a supplier of gas in Europe. However, Turkmenistan's new gas supplies provide a new opportunity for Europe to have more options, and for Turkmenistan to have more options at delivery to world markets. So I think a new gas-pipeline project is important and is in the U.S. interest. The trans-Caspian gas pipeline or the shipment of gas across the Caspian through compressed gas is clearly in the U.S. national-security interest and makes commercial sense, taking this gas supply to the market in a way that's independent of political decisions and based solely on commercial realities.
RFE/RL: What is your opinion about Russia's influence in Turkmenistan?
Merkel: Russia is a neighbor of Turkmenistan. Many of the people in the National Security Council in Turkmenistan have traveled to Russia. We shouldn't be concerned about Russia's influence on Turkmenistan. We should focus on allowing Turkmenistan to promote its interests, enhance its sovereignty, and make decisions that are best for its citizens regardless of Russian influence.
Human Rights In Turkmenistan
Human Rights In Turkmenistan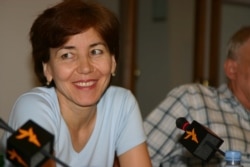 Tajigul Begmedova speaking at RFE/RL in Prague on July 21 (RFE/RL)
LIFE UNDER NIYAZOV:
On July 21, RFE/RL's Prague broadcasting center hosted a presentation by
TAJIGUL BEGMEDOVA,
chairwoman of the Bulgaria-based Turkmenistan Helsinki Foundation for Human Rights (THF). Begmedova discussed the human rights situation in Turkmenistan under President Saparmural Niyazov, focusing on the arrests in June of THF activists and RFE/RL Turkmen Service correspondent Ogulsapar Muradova. Begmedova, who graduated from the Institute of Economy in Moscow in 1987, fled Turkmenistan in 2002 and lives in exile in Sofia.
LISTEN
Listen to the complete presentation (36 minutes; presentation in Russian with consecutive translation into English):

Real Audio
Windows Media
Some RFE/RL Coverage Of Human Rights In Turkmenistan:
Media Coverage Of Leader Distracts From Real Problems
Authorities Cast Wide Net In Conspiracy Allegations
Embattled Turkmen Writer Honored Abroad
RFE/RL Correspondent Recounts Arrest
ARCHIVE
RFE/RL coverage of Turkmenistan.


THE COMPLETE STORY: Click on the icon to view a dedicated webpage bringing together all of RFE/RL's coverage of Kazakhstan, Kyrgyzstan, Tajikistan, Turkmenistan, and Uzbekistan.