The spokesman, Shahabuddin Attal, who claims to speak for senior Taliban commander Mullah Dadullah, says the five prisoners were kidnapped in Kandahar Province in late March.
The threat comes one day after the Taliban announced that they had beheaded Ajmal Naqshbandi, an Afghan translator seized along with an Italian reporter and his driver in early March. The driver was reportedly beheaded by the captors.
President Hamid Karzai today condemned Naqshbandi's killing as the work of "enemies of Afghanistan," while more than 100 Afghan journalists protested the killing in the capital, Kabul. The reporters held pictures of Naqshbandi and signs with slogans including "Free Afghan media will not be killed."
The Afghan central government's decision to swap several Taliban prisoners in exchange for the freedom of the Italian journalist, Daniele Mastrogiacomo, prompted surprise among some governments currently involved in NATO's International Security Assistance Force (ISAF) mission.
Also on April 8, six Canadian soldiers serving with the NATO-led force in southern Afghanistan were killed by a bomb, while a seventh NATO soldier has died in a separate incident in Afghanistan.
(AP)
The Afghan Insurgency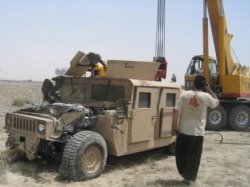 A U.S. military vehicle damaged by insurgents near Kandahar (epa)
HOMEGROWN OR IMPORTED? As attacks against Afghan and international forces continue relentlessly, RFE/RL hosted a briefing to discuss the nature of the Afghan insurgency. The discussion featured Marvin Weinbaum, professor emeritus of political science at the University of Illinois at Urbana-Champaign, and RFE/RL Afghanistan analyst Amin Tarzi.
LISTEN
Listen to the entire briefing (about 83 minutes):
Real Audio
Windows Media
ARCHIVE
RFE/RL's
coverage of Afghanistan
.
SUBSCRIBE
For weekly news and analysis on Afghanistan by e-mail,
subscribe to "RFE/RL Afghanistan Report."