Kyrgyz Opposition Campaigns For Confederation With Russia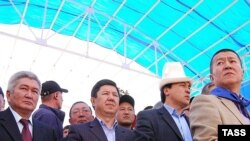 Kulov (left) with other opposition leaders at a rally in April (ITAR-TASS) June 2, 2007 - Some Kyrgyz opposition members began collecting signatures today for a referendum on a confederation with Russia, RFE/RL's Kyrgyz Service reported.
The initiative was announced at a meeting of some 200 people in the center of Bishkek.
The gathering was led by Former Prime Minister Feliks Kulov, head of the United Front for a Worthy Future for Kyrgyzstan.
Kulov said the confederation would prevent Kyrgyzstan from falling apart.
Tursunbek Akun, the chairman of the human rights commission under the Kyrgyz president, criticized the proposal as did opposition lawmaker Omurbek Tekebaev, who said Kyrgyzstan should maintain its full sovereignty.
(with material from Interfax, ITAR-TASS)