One Afghan police officer was wounded in the battle, which took place June 11 in Kandahar Province.
In eastern Nangarhar Province on the same day, Afghan police mistakenly fired on a U.S. patrol. The U.S. troops returned fire, killing seven of the police officers in what Afghan and U.S. officials called a "tragic mistake."
Meanwhile, the International Committee of the Red Cross has called on combatants in Afghanistan to respect the rights of civilians, saying they are suffering horribly from increasing threats to their security that include roadside bombs, suicide attacks, and aerial bombing raids.
In other developments, Afghan officials say armed men on a motorbike fired at girls outside a school in Logar Province, south of Kabul, killing two girls and wounding six others.
(compiled from agency reports)
U.S.-Afghan Relations
STRATEGIC PARTNERS:
Since leading the military campaign to oust the fundamentalist and largely unrecognized Taliban regime from power in 2001, U.S. officials have pledged a long-term interest in Afghan stability.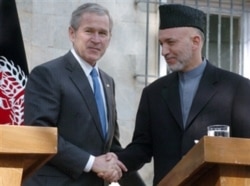 READ
'Strategic Partnership' Seen As Move Toward De Facto Rights For U.S. Bases
Analyst Discusses Increased U.S. Effort
Bush, Karzai Agree On Strategy Against Terror
Former CIA Analyst Says West Misunderstands Al-Qaeda
For regular news and analysis on Afghanistan by e-mail, subscribe to "RFE/RL Afghanistan Report."