During a special hearing on June 21, the committee heard from Zbigniew Brzezinski, who was national-security adviser for President Jimmy Carter in the 1970s, and Brent Scowcroft, who served as national-security adviser under President Gerald Ford in the 70s and President George Bush from 1989-93.

The current U.S. administration was represented by Daniel Fried, the assistant U.S. secretary of state for European and Eurasian Affairs.
Overreacting?
All three agreed that recent tensions are largely due to Russian President Vladimir Putin's negative reactions to various policies being pursued by U.S. President George W. Bush.

Chief among them is the U.S. proposal to set up parts of a missile-defense shield in Poland and the Czech Republic. The plan met with harsh criticism from Putin, who has said the shield would spur a new arms race and force Russia to consider retargeting missiles on Europe.
"Money, unlike ideology, does not buy commitment. It doesn't generate devotion." -- Brzezinski
But Brzezinski said that one avenue Russia cannot afford to take is to restart the Cold War, arguing that Russia lacks the ideology of its predecessor, the Soviet Union, to help it attract allies. Instead, Moscow tries to compensate with money, whose appeal is far more limited, according to Brzezinski.

"Money, unlike ideology, does not buy commitment," Brzezinski said. "It doesn't generate devotion. It can capitalize on opportunism and can be very useful, but it's not as powerful a source of influence."

Brzezinski believes the only reasonable path for Russia is to join with the West, and the best way that the West can facilitate that process, he said, is through the example of Ukraine.

"Helping Ukraine to be part of the West is not an anti-Russian policy, it is a policy which paves the way for Russia to be part of Europe," Brzezinski said. "Because if Ukraine moves to Europe, to the West, Russia will have to follow suit. So it is a strategic objective that is actually in our shared interest."

Conversely, Brzezinski said, if the West tempers its effort to bring Ukraine into NATO and the European Union out of deference to Russian concerns, Russia will be tempted by what he called a "lingering nostalgia" for an imperial sphere of influence that includes not only Ukraine, but also the other former Soviet republics.

That approach bothered Scowcroft, who believes that trying to accelerate Ukraine's move to the West would have the opposite effect.

"Having Ukraine lead the Soviet Union -- Russia -- to the West will retard Russia going to the West, because they will look at it as us trying to tear the brotherhood apart and isolate Russia and bring Ukraine into the West," Scowcroft said. "I think we need to be very cautious on this."

Hurt Feelings
Scowcroft said Russia apparently feels rebuffed by the West. For example, he said Putin must have been disappointed that his country wasn't asked to join the United States in Afghanistan to fight Al-Qaeda and the Taliban after the attacks in the United States on September 11, 2001.

It was also suggested during the hearing that the protracted war in Iraq had weakened Washington's ability to deal effectively with Europe and win Russia's trust. But Fried said that's no longer the case.
Fried said the U.S.-European rift ended with Bush's effort to reach out to traditional U.S. allies in Europe at the start of his second term in early 2005.
"We're working very well with the Russians on some issues," Fried said. "We're working very well with the Europeans as we deal with Russian issues. We've been working with the Europeans on Baltic issues on CFE (the Conventional Forces in Europe treaty), on issues of energy security."
Fried told the hearing that this restored trans-Atlantic unity has made it easier for Washington to talk with Russia, although Russia remains suspicious of U.S. intentions. Furthermore, he said Putin doesn't like to be lectured about how to nurture his country's new democracy.
Still, Fried said, the U.S. government feels it's necessary to speak out.
"In the end, Russia's fate is going to be in the hands of the Russians, both the government [and] civil society," Fried said. "The role of outsiders, well-meaning, otherwise is going to be second order. Russia will find its way for good or ill. But in any event, we should not be silent."
Mending Fences
Putin and Bush will meet in early July at the Bush family's estate in Kennebunkport, Maine, where the two men can relax as well as converse. Scowcroft said that meeting could help Putin understand he has nothing to fear from the West.
But Scowcroft said convincing him fully will require, in his words, "patience, understanding, and firmness when required."
U.S.-RUSSIA RELATIONS IN FOCUS
Allies Or Adversaries?

"I think there was too much euphoria, too much of an inclination to declare that Russia was a democracy," former U.S. national security adviser Zbigniew Brzezinski told RFE/RL.

more

Confused Or Cunning?

Harvard Historian Richard Pipes argues that Putin's Russia is confused about its role in the world and, therefore, an unreliable partner for the United States.

more
Moscow And Washington: Toe To Toe
Moscow And Washington: Toe To Toe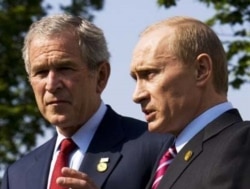 U.S. President George W. Bush (left) and Russian President Vladimir Putin at the G8 summit in Germany on June 7 (AFP)

MOUNTING TENSIONS. Relations between Russia and the United States have grown increasingly tense in recent months as issues like missile-defense, Kosovo's status, and Russia's domestic policies have provoked sharp, public differences. On June 5, U.S. President George W. Bush said democratic reforms in Russia have been "derailed"....(more)
RELATED ARTICLES
Silent Diplomacy Versus Public Criticism
Analysts Say New Arms Race Unlikely
Moscow's Patience With U.S., Allies 'Wearing Thin'
Russian Parliament Accuses U.S. Of Election Meddling
MORE: A special archive of RFE/RL's coverage of U.S.-Russian relations.