Russian and Chinese Defense Ministers Anatoly Serdyukov and Cao Gangchuan made the comment today at a meeting of SCO defense ministers in Bishkek.
"We do not consider the SCO to be a bloc opposing someone. This is an organization created with a completely different task -- to combat terrorism and nothing else," Serdyukov said.
Tajik Defense Minister Sherali Khayrulloev, for his part, addressed the situation in Afghanistan, which he said was becoming more and more complicated.
He said any lull in fighting was only because of the harvest -- a reference to the opium poppies widely grown in Afghanistan -- and that he expected militants from Al-Qaeda, the Taliban, and the Islamic Movement of Uzbekistan to renew activities from July.
The SCO also includes Kazakhstan, Kyrgyzstan, and Uzbekistan.
Today's meeting was held ahead of an SCO summit to be held in Bishkek in August. The same month, member states are to hold joint anti terror exercises in Russia's Chelyabinsk region.
(with AKIpress, Interfax, ITAR-TASS)
China In Central Asia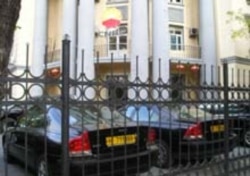 The Almaty,Kazakhstan, office of China's National Petroleum Corporation (RFE/RL)
BEIJING ON THE RISE:
The September 11, 2001, terrorist attacks against the United States prompted Washington to topple the Taliban regime in Afghanistan. At the time, many predicted the United States would gain a new foothold in Central Asia: new U.S. military bases appeared in Kyrgyzstan and Uzbekistan, U.S. foreign aid increased, and much U.S. attention was lavished on the region. Russia and China looked on warily. But the pendulum may be swinging back in Moscow's and Beijing's favor. China, especially, has expended great effort at winning friends in Central Asia and is becoming a force to be reckoned with
....(more)
RELATED ARTICLES
Turkmenistan-China Pipeline Project Has Far-Reaching Implications
Central Asia Looks To Fuel Asia's Economic Boom
The Geopolitical Game In Central Asia
ARCHIVE
To view an archive of RFE/RL's coverage of China, click here.

SUBSCRIBE
For weekly news and analysis on all five Central Asian countries by e-mail, subscribe to "RFE/RL Central Asia Report."