Pakistani military spokesman Waheed Arshad told RFE/RL's Radio Free Afghanistan today that the attacker drove an explosive-laden car into military convoy on a road near Daznaray. He said more than 20 other soldiers were injured by the attack. That village is about 50 kilometers north of Miran Shah, the administrative center of North Waziristan.
Pakistan in recent days has deployed thousands of soldiers into parts of the Northwest Frontier Province and the semi-autonomous tribal areas near the Afghan border.
Islamic extremists in those areas have vowed to carry out a series of suicide attacks as revenge for the army's attack on a militant cleric and his followers at Islamabad's Red Mosque.
(With material from AFP, AP, and Reuters)

Tribal Trouble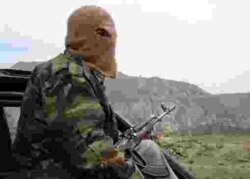 A Pakistani tribesman patrols near Wana in South Waziristan (AFP)
NO MAN'S LAND.
Fighting erupted in March involving tribesmen in Pakistan's fiercely independent western regions, where reports suggest locally backed offensives targetted Uzbek and other foreign Taliban sympathizers.
RELATED ARTICLES
Pakistan: Crackdown Could Pose Threat To Central Asia
Central Asia: Has IMU Reached The End Of The Line?
SUBSCRIBE
For regular news and analysis on Afghanistan by e-mail,
subscribe to "RFE/RL Afghanistan Report."