RFE/RL's Radio Free Afghanistan reported that in addition to local elders, a government delegation was involved in the effort to secure the South Koreans' release.
Afghan and international forces were said to have surrounded the area where the South Koreans were being held, but Afghan authorities said they were hoping to win their release "via talks rather than military operations."
Purported Taliban spokesman Qari Yusof Ahmadi was quoted as saying today that the South Korean hostages were in good health. He also said that any use of force to rescue them would risk the lives of all 23 captives.
Meanwhile, the fate of a German and five Afghans was unclear as talks continued with their captors, who were believed to be Taliban militants.
Taliban militants had reportedly issued various demands since grabbing the hostages.
The deadline from the South Koreans' abductors was extended by 24 hours on July 22.
Afghan officials said negotiations were under way to work for the release the South Koreans, held in Ghazni Province, and the German citizen captured in Maidan Wardak Province along with at least five Afghans.
Another German national taken hostage at the same time has turned up dead, although the cause of death was unclear.
Speaking to reporters today in Kabul, Afghan Deputy Interior Minister Abdul Hadi Khaled said authorities have not tried to free the South Korean hostages by force as negotiations continued. He said a group of local elders and influential individuals had been talking with the "armed groups" in an effort secure their release.
"No military operation has taken place," Khaled said. "But we are using all our sources and options to free the [South] Korean civilians who have been captured by the armed group. We are trying to free them safe and sound. So far our efforts are progressing well."
Demand Confusion
Radio Free Afghanistan reported later today that an official delegation that could include South Korean representatives was also involved in those efforts.
The 23 hostages belong to the Saemmul Church in Bundang, a city outside South Korea's capital, Seoul. The church said today it will suspend at least some of its volunteer work in Afghanistan.
The latest reports suggested that a Taliban spokesman said the South Koreans' captors were demanding the release of the same number of Taliban prisoners.
Khaled, however, said there was no clear demand from the hostage takers. "Unfortunately, the kidnappers have not been able so far to give us their clear plan -- a plan, which would be at least acceptable for themselves," Khaled said.
The South Koreans were snatched from a bus in the central Ghazni Province, traveling between Kabul and the southern city of Kandahar on July 19.
According to news agencies, the Taliban had also demanded that South Korea's 200 military engineers and medical troops to leave Afghanistan.
Since the abductions, the South Korean government reaffirmed its scheduled plans to withdraw those noncombat troops by the end of this year.
South Korea has added Afghanistan to a list of countries to which its citizens are banned from traveling. Any South Korean making an unauthorized journey to a banned country can now be jailed for up to one year or fined $3,200.
German Captive Confirmed Dead
Khaled confirmed earlier reports that one of two German hostages died in captivity. He said the second German hostage was alive and in good health despite a Taliban claim that captors had killed both hostages.
The Taliban had demanded after those abductions that Germany withdraw its 3,000 troops from Afghanistan.
German leaders defended their troop deployment in Afghanistan, saying Germany "will not react to the Taliban's demands."
The Germans and at least five Afghan national were kidnapped in Maidan Wardak Province on July 18, where they were working on a dam project. The fate of the Afghan hostages is unclear.
German Chancellor Angela Merkel said her government "will do everything responsibly and will not be blackmailed." She stressed her government's commitment to making NATO's mission in Afghanistan a success despite the hostage crisis and mounting warnings from security officials that Germany might be targeted in terrorist attacks.
RFE/RL's Radio Free Afghanistan reports that the UN mission in Afghanistan said today that the recent kidnappings raise concern over the safety of civilians in Afghanistan.
(RFE/RL's Radio Free Afghanistan contributed to this report)
The Afghan Insurgency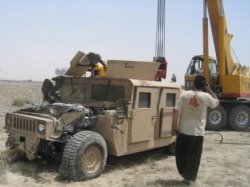 A U.S. military vehicle damaged by insurgents near Kandahar (epa)
HOMEGROWN OR IMPORTED? As attacks against Afghan and international forces continue relentlessly, RFE/RL hosted a briefing to discuss the nature of the Afghan insurgency. The discussion featured Marvin Weinbaum, professor emeritus of political science at the University of Illinois at Urbana-Champaign, and RFE/RL Afghanistan analyst Amin Tarzi.
LISTEN
Listen to the entire briefing (about 83 minutes):
Real Audio
Windows Media
ARCHIVE
RFE/RL's
coverage of Afghanistan
.
SUBSCRIBE
For weekly news and analysis on Afghanistan by e-mail,
subscribe to "RFE/RL Afghanistan Report."