Russia has refused to extradite businessman Andrei Lugovoi to stand trial for the murder of former Russian security officer Aleksandr Litvenenko, on the grounds that its constitution bars the extradition of Russian citizens. The dispute has led both countries to expel the other's diplomats.
In the latest escalation, Putin said it had been disrespectful of Britain to suggest Russia amend its constitution, saying London should instead "change its brains."
On July 23, British Foreign Secretary David Miliband indicated that Russia's actions in this case have wider ramifications, which must be reflected in its relationship with the entire EU.
(Reuters, ITAR-TASS, Interfax, AP)

Tit For Tat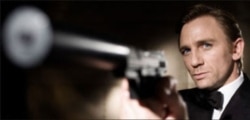 James Bond isn't the only character in Russia and Britain's history of espionage


UNDIPLOMATIC HISTORY
1960-71: 27 Soviet Embassy officials told to leave the United Kingdom.

1971: Britain expels 105 staffers of Soviet diplomatic missions for alleged spying. They are exposed by Oleg Lyalin, the first Soviet intelligence agent to defect since World War II. Russia responds by expelling 18 British Embassy staffers from Moscow.

1994: John Scarlett, now head of MI6, expelled from Moscow, where he was serving as an MI6 officer. In response Britain expels a Russian diplomat. Russian company manager Vadim Sintsov arrested for spying for Britain, is sentenced to 10 years of hard labor.

1995: Britain expels 25 alleged Soviet spies; USSR follows by expelling 25 Britons.

1996: Russia expels nine British diplomats it claims are running a spy ring. Britain responds by throwing out four Russians.

2000: Junior Russian diplomat Platon Obukhov, the son of a former Soviet deputy foreign minister, sentenced to 11 years in prison for spying for Britain. Verdict is overturned by Russian Supreme Court.

2004: Weapons expert Igor Sutyagin convicted of treason and passing classified military information to a British company alleged to be a front for the CIA. Sentenced to 15 years in prison.

2006: Russia accuses four British Embassy employees of conducting an espionage operation that included the use of a "spy rock." Russia chooses not to expel the four.
RELATED ARTICLES
Lugovoi Says Litvinenko Was British Spy
Russia's FSB Opens Probe Into Alleged MI6 Activity