Abbas Arrives In Moscow For Talks With Putin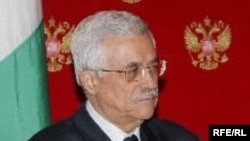 Abbas in Moscow in 2005 (RFE/RL) July 29, 2007 -- Palestinian Authority President Mahmud Abbas has arrived in Moscow for a three-day visit aimed at encouraging Russia to take a greater role in the Middle East peace effort.
An official with the Palestinian Embassy in Moscow told the ITAR-TASS news agency that Abbas "places much importance" on his trip to Russia.
Abbas is to meet with Russian President Vladimir Putin and Foreign Minister Sergei Lavrov during his visit.
(AFP)