Dozens of fighter jets, hundreds of armored vehicles, and some 6,500 soldiers took part in the war games, which simulated a mock attack by terrorists attempting to take control of energy resources.
Along with Russian and Chinese troops, forces from Uzbekistan, Kyrgyzstan, Kazakhstan, and Tajikistan took part in the exercises, which were the first joint military games to involve all six SCO members.
Russian President Vladimir Putin and Chinese President Hu Jintao and other SCO leaders attended the exercises, which followed their summit on August 16 near the Kyrgyz capital, Bishkek.
The summit ended with the six nations vowing to work more closely to develop and export energy resources and boost security efforts.
Putin proposed the SCO create an "energy club" that would share energy resources among its members and help develop those resources for export to world markets.
Focus on Afghanistan
Much of the security agenda at the SCO summit centered on Afghanistan. Uzbek President Islam Karimov said that the Central Asian states, as Afghanistan's neighbors, "are concerned by developments in that country that are characterized by a trend of further escalation, with significant military activities by the Taliban movement and continuing, uncontrolled growth in drug production and drug trafficking."
Russian President Vladimir Putin called for the creation of a "belt of counternarcotics security" around Afghanistan and an aggressive hunt for the financial roots of the drug trade there.
Putin also urged the SCO to host an international conference on Afghanistan with the aim of boosting stability there.
There was speculation the SCO would move to admit more members at the summit, which was attended by the leaders of Afghanistan, Iran, Mongolia, and Turkmenistan. But there was no indication from the group that its members are prepared to expand their ranks in the near future.
(with material from agency reports)
Shanghai Cooperation Organization
Shanghai Cooperation Organization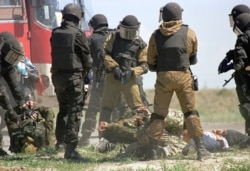 Soldiers conducting the first-ever SCO joint antiterrorism exercises, held in Kazakhstan in August 2003 (TASS)

NATO'S EVIL TWIN? At an August 3 briefing at RFE/RL's Washington,D.C., office, Central Asia experts Richard Weitz and Daniel Kimmage discussed the emergence of the Shanghai Cooperation Organization (SCO), a multilateral body that comprises Russia, China, Kazakhstan, Kyrgyzstan, Tajikistan, and Uzbekistan. In addition, Iran, Pakistan, Mongolia, and Afghanistan have observer status in the organization.
LISTEN
Listen to the entire briefing (about 75 minutes):

Real Audio
Windows Media
RELATED ARTICLES
U.S. Wary Of Shanghai Grouping
Unified Message Emerges From Shanghai Summit
Shanghai Cooperation Organization Mulls Expansion
China-Russia Bloc Challenges U.S. In Region


THE COMPLETE STORY: Click on the icon to view a dedicated webpage bringing together all of RFE/RL's coverage of Kazakhstan, Kyrgyzstan, Tajikistan, Turkmenistan, and Uzbekistan.