Jyldyz Akmatbekova, a lawyer at the State Agency for Information Resources and Technology, told RFE/RL's Kyrgyz Service today that the Justice Ministry is drafting a new regulation reversing an earlier ban on head scarves in passport photos.
Jamal Frontbek-kyzy, the leader of a Kyrgyz Muslim women's nongovernmental organization, Mutakalim, told a press conference in Bishkek that the decision was made by a special interagency commission set up earlier this year to consider the issue.
The commission included officials from the State Agency for Information Resources and Technologies and the Justice, Interior, and Foreign ministries.
Frontbek-kyzy said 45,000 signatures have been collected from across the republic in support of the initiative.
It is unclear when the new regulation will go into effect.
Earlier this year, authorities in neighboring Kazakhstan made a similar ruling allowing women to be photographed with headwear for their identification documents.
(with material from agency reports)
Islam And Politics In Central Asia
Islam And Politics In Central Asia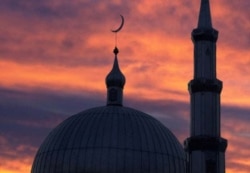 The Khodji Mashrab Mosque in Dushanbe (TASS file photo)
ACTIVISTS AND AUTOCRATS: Eric McGlinchey, assistant professor of government and politics at George Mason University, told an RFE/RL briefing that Islam-centered political movements present the most coherent challenge to autocratic governments in Central Asia.
LISTEN
Listen to the entire briefing (about 60 minutes):

Real Audio
Windows Media
RELATED ARTICLES
Central Asian Security Services Take On Religious Dissent
Family, Followers Reject 'Terrorist' Claims Against Slain Cleric
Hizb Ut-Tahrir's Calls For Islamic State Find Support
Imam Extends Welcome To Hizb Ut-Tahrir

A thematic webpage devoted to issues of religious tolerance in RFE/RL's broadcast region and around the globe.