Serbian Leader Says U.S. Threatening Over Kosovo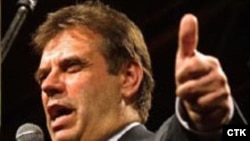 Serbian Premier Vojislav Kostunica (file photo) (CTK) September 9, 2007 -- Serbian Prime Minister Vojislav Kostunica is calling on the United Nations to protect Serbia from what he calls a "direct threat" from the United States to recognize the independence of Kosovo.
Kostunica says in a statement to the UN Security Council that the United States has threatened to recognize Kosovo's independence if it is unilaterally declared by the province's separatist ethnic Albanian leaders.
Kostunica says this would be an illegal act by Washington.
Serbia's ally Russia has blocked a UN plan that would give Kosovo independence under European Union supervision.
(Reuters, AFP)

SUBSCRIBE
For a regular review of politics, media, and RFE/RL broadcasts in the western Balkans,
subscribe to "RFE/RL Balkan Report."