Diplomats at the conference, which is being held in the Slovenian capital Ljubljana, told RFE/RL that Russia is insisting that the declaration to be issued later today contain a statement about the need for changes in the operations of the OSCE election-monitoring organization, the Office for Democratic Institutions and Human Rights (ODIHR).
Diplomats said the United States and the European Union were equally determined that the door should not be opened to any weakening of the ODIHR.
Negotiations continued until after midnight and resumed again early this morning. The diplomats said that there is no sign of breakthrough at this point.
For more than a year Russia has criticized the election-monitoring process as being biased and charged that it is sometimes misused for political purposes. Many of Russia's charges were repeated in an address to the conference by the Russian Foreign Minister Sergei Lavrov on 5 December.
The Voting In Images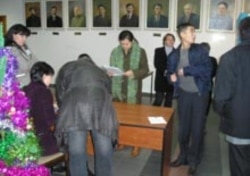 Workers at Almaty polling station No. 310 registering election monitors prior to the opening of voting on December 4


To see more images collected by RFE/RL's Kazakh Service during the voting on December 4,
click here.



RFE/RL's complete coverage and background of Kazakhstan's presidential election on December 4, 2005.