White House spokesman Blair Jones said Nazarbaev had told Bush that his government is prepared to investigate the charges.
Nazarbaev won reelection on 4 December by a landslide with some 91 percent of the vote and is set to serve another seven-year term. But international observers branded the vote flawed, citing ballot box stuffing, and the intimidation of opposition campaigners.
Western leaders usually praise Nazarbaev for reforms and political stability. The opposition accuses the West of making Kazakh oil a higher priority than democracy.
(Reuters/AFP)
The Voting In Images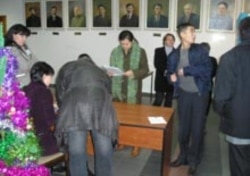 Workers at Almaty polling station No. 310 registering election monitors prior to the opening of voting on December 4


To see more images collected by RFE/RL's Kazakh Service during the voting on December 4,
click here.



RFE/RL's complete coverage and background of Kazakhstan's presidential election on December 4, 2005.