Two vehicles laden with explosives were seized during the raids on 29 January in the southern city of Kandahar, which has suffered a spate of suicide attacks in recent months.
Governor Asadullah Khaled said the nine were suspected neo-Taliban members and allegedly planned to carry out suicide attacks against U.S.-led coalition forces and government targets.
The arrests came the same day that Afghan security forces set up checkpoints on all roads leading into Kandahar and started searching vehicles entering and exiting the city.
Earlier this month, President Hamid Karzai dispatched police reinforcements to Kandahar to crack down on militant activities.
(AP)
Suicide Attacks In Afghanistan
Suicide Attacks In Afghanistan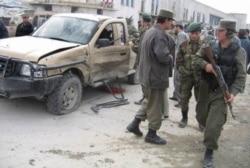 The results of a suicide-bomb attack in Kandahar Province on January 16 (epa)
Suicide bombers have struck more than two dozen times in Afghanistan since neo-Taliban and Al-Qaeda insurgents appear to have stepped up use of such attacks following the provincial and national elections of September 2005. While sporadic until recent months, suicide bombings have killed at least 90 people in Afghanistan since late 2001 -- including the attack in the days leading up to 9/11 that left legendary Afghan mujahedin commander Ahmad Shah Mas'ud dead. For an overview of suicide attacks in Afghanistan dating back to 2001, click here.