Tajiks Seize 60 Kilograms Of Heroin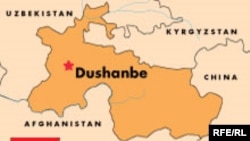 (RFE/RL) 17 February 2006 -- Tajikistan's Interior Ministry said today that its troops and border guards seized 70 kilograms of narcotics -- including 60 kilograms of heroin -- during an operation last night along the Tajik-Afghan border.
The head of the Interior Ministry's narcotics department, Faizullo Gadoyev, said a separate operation 16 February resulted in the seizure of 32 kilograms of opium and the arrest of one drug trafficker.
Tajikistan has become a major transit country for narcotics coming out of Afghanistan. Tajik drug officials say there are about 15 drug laboratories on the Afghan side of the border that can produce up to 20 kilograms of heroin a day.
(ITAR-TASS)