It said that the tribunal appeared to have paid no attention to the guarantees given by the Russian government that the former Yugoslav leader would return to The Hague promptly once his treatment was complete.
Milosevic is defending himself against a 66-count indictment for war crimes it is alleged he committed in Bosnia, Kosovo, and Croatia in the 1990s.
The court said it could see no medical reason why Milosevic should travel to Moscow for treatment and that it was not satisfied that if he left for Russia that he would ever return for the continuation of his trial.
(Ekho Moskvy, AP)
Srebrenica Remembered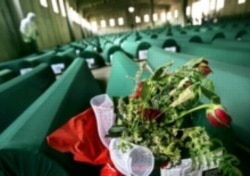 Coffins of Srebrenica victims being prepared for burial in October (AFP)

THE WORST ATROCITY IN EUROPE SINCE WORLD WAR II: The July 1995 massacre of some 7,000 Muslim men and boys by Bosnian Serb fighters near the UN-designated safe haven of Srebrenica is the worst atrocity of its kind in Europe since the end of World War II. Since the incident, the name Srebrenica has become practically synonomous with ethnic cleansing....(more)
See also:
Coming To Grips With The UN's Failure At Srebrenica
Child Of Srebrenica Returns Home For Anniversary Of Massacre