Russian Police Break Up Antinuclear Protest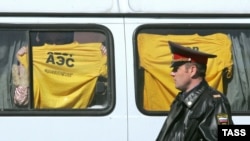 Greenpeace activists being taken away from Red Square (ITAR-TASS) April 26, 2006 -- Moscow police today broke up a protest arranged by the environmental group Greenpeace to mark the 20th anniversary of the nuclear disaster at Chornobyl (Chernobyl).
Thirteen activists had chained themselves to railings outside St. Basil's Cathedral on Red Square to draw attention to plans by a number of countries to build a new generation of nuclear reactors.
Police also detained several journalists covering the protest.
(Ekho Moskvy, Interfax, Reuters)

Chornobyl Contamination Zones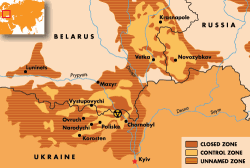 Click on the map to enlarge.

THE DIRTY ZONE: Within a month of the April 26, 1986, Chornobyl explosion, Soviet authorities had evacuated almost 120,000 people from a zone within 30 kilometers of the plant. However, contamination by radioactive isotopes, particularly cesium-137, which has a half-life of 30 years, spread over a much wider area.
The map above shows the four areas of cesium-137 contamination across Belarus, Russia, and Ukraine. The Closed Zone shows contamination more than 40 curies per square kilometer, the Control Zone includes the Permanent Control Zone (15-40 curies per square kilometer) and Periodic Control Zone (5-15 curies per square kilometer), and the Unnamed Zone shows contamination of 1-15 curies per square kilometer.

Click on the icon to view the slideshow