Uzbekistan Says Kyrgyz Guards Involved In Clash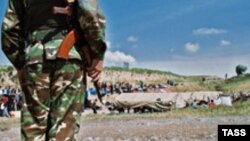 The Uzbek-Kyrgyz border (file photo) (ITAR-TASS) June 30, 2006 -- Authorities in Tashkent say Kyrgyz border guards shot two Uzbek shepherds today after illegally entering the country.
In comments carried by a pro-government information website, a spokesperson for the Uzbek State Border Protection Committee said the incident took place in the Ferghana region.
The spokesperson said the wounds sustained by the two shepherds are not life threatening. There was no immediate comment from Kyrgyzstan.
(press-uz.info)