Russia Calls For Comprehensive Mideast Settlement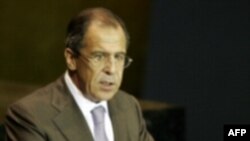 Russian Foreign Minister Sergei Lavrov (file photo) (AFP) September 7, 2006 -- During a brief visit to Lebanon, Russian Foreign Minister Sergei Lavrov reiterated Russia's call for an international conference on a "truly comprehensive" Middle East peace settlement "accepted by all countries in the region."
Lavrov was in Beirut to discuss the UN-brokered cease-fire that ended a 34-day war between Israel and Hezbollah militia.
Lavrov offered Lebanese Prime Minister Fuad Siniora Russia's help in efforts to rebuild Lebanon.
The Russian foreign minister is also scheduled to visit Syria and Israel.
(ITAR-TASS, AFP, AP)


UPDATED CONSTANTLY: Visit RFE/RL's Russian-language website, featuring news, analysis, features, streaming audio, and more, in Russian, from RFE/RL's Russian Service.
ARCHIVE
RFE/RL's English-language
coverage of Russia
.