Russian, Chinese Oil Groups Create Joint Venture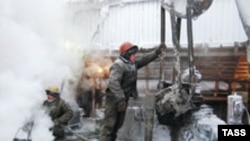 Drilling at Rosneft's Vankop oil field in Taimur, Siberia (ITAR-TASS) October 17, 2006 -- Rosneft, Russia's second-largest oil producer, and China National Petroleum Corporation (CNPC) have created a joint venture to produce and sell hydrocarbons.
Three of the company's five directors will be from Rosneft and two from CNPC. CNPC bought $500 million of Rosneft shares on the London Stock Exchange in July.
Rosneft will retain 51 percent of the company. The new joint venture would be called Vostok Energy.
(ITAR-TASS, AFP)