The new party has been named A Just Russia: Motherland, Pensioners, Life. That's because it brings together the nationalist Motherland party, the Party of Pensioners, and the Party of Life.
The merger had been planned for months, but the parties officially sealed their alliance on October 28 at a founding congress in Moscow.
MORE: Coverage of
Russia's new political landscape
, including an interview with A Just Russian Chairman Sergei Mironov, in Russian from RFE/RL's Russian Service.
Delegates elected Sergei Mironov, who headed the Party of Life and presides over the upper house of parliament, as leader of the new alliance. He described the party as a new "leftist political force" and a "hard opposition" to Unified Russia, which he accused of seeking to establish a political monopoly.

Unified Russia currently holds more than 300 of the Duma's 450 seats. A Just Russia hopes to gain seats in the State Duma at the next parliamentary elections, slated for December 2007.

Fake Opposition?

Most observers, however, dismiss the new party as another Kremlin project aimed at thwarting competition from leftist political forces. "The party was created by the presidential administration to snatch the center-left electorate," says Vladimir Pribylovsky, the head of Moscow's Panorama think tank.

"Unified Russia is the right-wing pro-Putin party and A Just Russia is the left-wing pro-Putin party," Pribylovsky adds. "Together, they should gather over half, or two-thirds, of the votes at the State Duma elections. That's the aim."

Ironically, even Mironov himself says that although the new alliance will work in opposition to Unified Russia, it will support Russian President Vladimir Putin.


Mironov is a staunch ally of Putin and his Party of Life has enjoyed the Kremlin's blessing. The Party of Pensioners is also run by a Putin loyalist, Igor Zotov.
Undermining Communists
As for Rodina, many policy watchers say the nationalist party was inspired by the Kremlin in 2003 to poach votes from the Communist Party. So will the new alliance, rather than bolstering the opposition, weaken it by mopping up more votes, in particular from other leftist parties?
Nikolai Petrov, a political analyst at the Carnegie Center in Moscow, says this is a likely scenario. "At any rate, it will force left-wing parties to radicalize their stance and become tougher toward the authorities," he adds. "Even when Motherland and the Party of Pensioners used to exist as independent projects, they were already stealing many votes from the Communists and other left-wing forces."
The Party of Life won a mayoral election against Unified Russia last week in the Volga city of Samara. This victory has been widely interpreted as a signal that A Just Russia has good chances of proving an electoral success.
Smooth Marriage Unlikely
But the new alliance's fortunes are far from guaranteed. Petrov says Mironov's leadership is likely to encounter strong resistance within the party at a regional level.
"This project is far from completion and its main problem -- which it has already experienced and which will continue to grow in the future -- is [achieving] a real merger of three very different political forces in the regions," Petrov says. "The federal base, the main party for this alliance, is the smallest of the three, the Party of Life. So the Party of Life's leadership claims will be contested in many regional organizations. Conflicts are inevitable."
In St. Petersburg, a large percentage of Rodina party members have already rejected A Just Russia.
But Mironov nonetheless has big plans for his new party. "We have a project for the entire country," he told reporters at the group's congress on October 28. "Let Unified Russia watch out for us. Let them be a bit uneasy.
Russia's Democratic Development
Russia's Democratic Development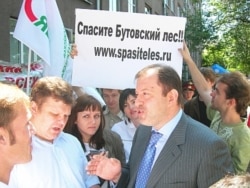 Demonstrators speak with local politicians in Butovo about the destruction of a local forest in July 2006 (RFE/RL)

IS RUSSIAN DEMOCRACY MANAGING? Russian President Vladimir Putin has said Western powers seek to pressure Russia under the pretext of concern over its democratic development. He has said Russia is ready to listen to "well-intentioned criticism," but will not allow anyone to interfere in its internal affairs. The Kremlin has been criticized for stifling political oppostion, increasing central control over the media, and cracking down on the work on nongovernmental organizations.
RELATED ARTICLES
Concerns Raised About Moscow Chairing Rights Committee
Using Racism Is A Time-Honored Kremlin Tool
Putin Comes Under Fire At Global Media Congress
Oligarch's Case A Sign Of The Times
'Letter Of 100' Warns That Putin Is Suppressing Democracy
A Hard-Line Agenda For Putin's Second Term
Book Says Putin's Russia Falls 'Between Democracy and Dictatorship'
NGOs Denounce Status Changes As Move To Curb Activities
Scrutiny Of Foreign Funds Hurts Democracy Programs
U.S. Official Says Russian NGO Law Part Of Antidemocratic Trend

SUBSCRIBE
For news and analysis on Russia by e-mail,
subscribe to "RFE/RL Russia Report."