Kyrgyz Parliament Adopts New Constitution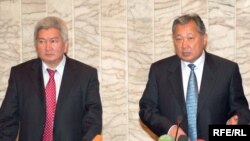 Kyrgyz President Kurmanbek Bakiev and Prime Minister Feliks Kulov on November 7 (RFE/RL) BISHKEK, November 8, 2006 (RFE/RL) -- Kyrgyz lawmakers today adopted a new constitution that significantly curtails the president's powers to the benefit of the legislature, RFE/RL's Kyrgyz Service reported.
The lawmakers passed the law in two swift successive readings. The session lasted less than one hour.
The deal is expected to end months of intense political fighting between President Kurmanbek Bakiev and his opponents. Opposition leaders have vowed to send their supporters home as soon as the new fundamental law is adopted.
Thousands of opposition protesters have been demonstrating in Bishkek since November 2 to demand that Bakiev agree on a new constitution that reduces the president's powers, or resign.