The call is contained in an appeal drafted by a group of 10 parliamentarians that, according to exiled Turkmen opposition leaders who attended the debate, was adopted on January 17.
One of the signatories, Volker Beck of the German Bundestag's Alliance 90/Greens coalition, talked to RFE/RL today.
"We are deeply concerned [because] we don't see real changes in democratic terms and we want to urge the new interim government that they hold real democratic elections," he said. "But until now we see no signs, no chances for a democratic election."
In their appeal, the parliamentarians urge the German government to make sure that opposition candidates can run in the upcoming Turkmen elections.
They call upon federal authorities to demand that the Turkmen interim leadership review the case of all political prisoners remaining in custody and rehabilitate the victims of late President Saparmurat Niyazov's political repressions.
They also call for a thorough investigation into the circumstances that led to the sentencing and death in custody of RFE/RL journalist Ogulsapar Muradova.
Finally, they recommend that federal authorities freeze the Turkmen government's German bank assets for at least six months.
Saparmurat Niyazov, 1940-2006
Saparmurat Niyazov, 1940-2006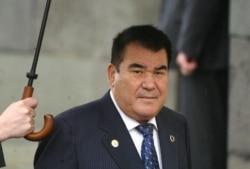 Turkment President Saparmurat Niyazov (bymedia.net)

ERA OF UNCERTAINTY. The death of Turkmen President Saparmurat Niyazov ends an era and begins a period of great uncertainty in Turkmenistan....(more)
RELATED ARTICLES
Could Niyazov's Death Lead To Political Struggle, Instability?
President's Death Brings Muted World Reaction
Energy Analyst Discusses Impact Of Niyazov's Death
Niyazov's Death Prompts Integration Hopes, Gas Worries In Russia
ARCHIVE
RFE/RL's coverage of
Turkmenistan
.