European nations held back from making major commitments at the meeting of NATO defense chiefs in the Spanish city of Seville, and Germany questioned whether more troops are the real priority.
New U.S. and British reinforcements mean the two allies will provide half a NATO Afghan force which has now grown to some 35,000 troops.
U.S. Defense Secretary Robert Gates said "We have an opportunity this spring to significantly disrupt the increasing level [of violence] we have seen in recent years caused by the Taliban."
Many European nations argue their armies are already stretched by NATO, UN, and EU missions around the world and say that committing to send more troops to Afghanistan will threaten fragile public support for the mission in Europe.
(compiled from agency reports)
The Afghan Insurgency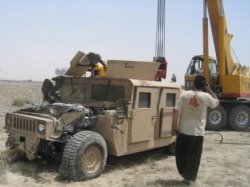 A U.S. military vehicle damaged by insurgents near Kandahar (epa)
HOMEGROWN OR IMPORTED? As attacks against Afghan and international forces continue relentlessly, RFE/RL hosted a briefing to discuss the nature of the Afghan insurgency. The discussion featured Marvin Weinbaum, professor emeritus of political science at the University of Illinois at Urbana-Champaign, and RFE/RL Afghanistan analyst Amin Tarzi.
LISTEN
Listen to the entire briefing (about 83 minutes):
Real Audio
Windows Media
ARCHIVE
RFE/RL's
coverage of Afghanistan
.
SUBSCRIBE
For weekly news and analysis on Afghanistan by e-mail,
subscribe to "RFE/RL Afghanistan Report."