Gurbanguly Berdymukhammedov, who became acting president after Niyazov died in December, has been widely expected to emerge as the winner.
Berdymukhammedov and five little-known candidates -- all from Turkmenistan's only legal party -- were on the ballot in the February 11 vote.
Turkmen authorities have announced that nearly 99 percent of registered voters cast ballots in the election.
The inauguration ceremony for the victor is due to take place on February 14.
Russian Prime Minister Mikhail Fradkov and Georgian President Mikheil Saakashvili are among the foreign dignitaries who are due to arrive in Ashgabat later today to attend the inauguration ceremony.
The United Democratic Opposition of Turkmenistan, whose leaders live in exile, has called the vote illegal and said it should not be recognized. Exiled opposition figures were not permitted to return to Turkmenistan to participate in the vote.
Foreign diplomats have said that while the election failed to meet Western standards for fairness, the vote could nevertheless mark a step toward democratic reform in Turkmenistan.
(compiled from agency reports)
Turkmenistan's Presidential Election
Turkmenistan's Presidential Election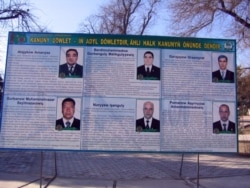 A billboard in Ashgabat with portraits of the candidates in the February 11 election (OSCE)


SIGNS OF CHANGE? Reporters Without Borders analyst Elsa Vidal and RFE/RL Kazakh Service Director Merkhat Sharipzhanov led an RFE/RL briefing in Prague about the significance -- or lack thereof -- of Turkmenistan's first-ever competitive presidential election.
LISTEN
Listen to the entire briefing (about 60 minutes):

Real Audio
Windows Media
RELATED ARTICLES
Could Presidential Vote Open New Chapter?
Sorting Out The Presidential Candidates
Presidential Campaign Reflects Latent Social Tensions
Campaign Opens With Surprising Promises Of Reform
ARCHIVE
RFE/RL's coverage of
Turkmenistan
.