Farah Province Governor Mohidin Khan was quoted by the Associated Press as saying about 200 Afghan police and soldiers moved into the town of Bakwa early today and faced no resistance.
Khan said some NATO forces also took part in the operation.
"There is now security there, and there isn't any problem," Afghan Interior Ministry spokesman Zamarai Bashari said today. "There is no damage to the main district office, and there are no casualties among civilians. Security forces are currently in the district."
Taliban fighters were reported to have moved into the town on February 19.
Meanwhile, suspected Taliban fighters have carried out several attacks further to the east. A U.S. soldier was killed on February 19 during combat in the Naray area of Kunar Province.
In Khost Province, a suicide bomber disguised as a doctor injured at least three U.S. soldiers today when he blew himself up at a hospital.
And in Pakistan's nearby tribal region of North Waziristan, the beheaded body of an Afghan refugee was found with a note accusing him of being a U.S. spy -- one of dozens of people killed by militants there during the last three years.
(Reuters, AP)

The Afghan Insurgency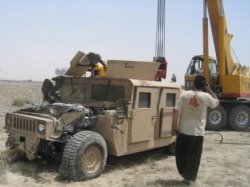 A U.S. military vehicle damaged by insurgents near Kandahar (epa)
HOMEGROWN OR IMPORTED? As attacks against Afghan and international forces continue relentlessly, RFE/RL hosted a briefing to discuss the nature of the Afghan insurgency. The discussion featured Marvin Weinbaum, professor emeritus of political science at the University of Illinois at Urbana-Champaign, and RFE/RL Afghanistan analyst Amin Tarzi.
LISTEN
Listen to the entire briefing (about 83 minutes):
Real Audio
Windows Media
ARCHIVE
RFE/RL's
coverage of Afghanistan
.
SUBSCRIBE
For weekly news and analysis on Afghanistan by e-mail,
subscribe to "RFE/RL Afghanistan Report."