Medvedev was asked about issues ranging from mortgage rates and the supply of medicine to language education in Russia.
Medvedev said local authorities should decide about Ukrainian language education in schools. He also said that as digital television expands in Russia, programming will be available in multiple languages -- including educational programming.
"I hope that, at some point when we've already made the full-fledged transition to digital -- and of course this will take some time -- that any citizen living in our country will have the possibility to use digital channels to watch television in Ukrainian or other languages of the CIS, other languages of the former Soviet republics," he said.
Most analysts consider Medvedev and First Deputy Prime Minister Sergei Ivanov as leading contenders in Russia's 2008 presidential election.
(with material from ITAR-TASS, Interfax)
Russia's Democratic Development
Russia's Democratic Development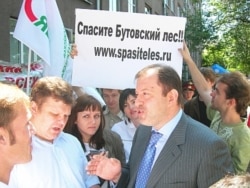 Demonstrators speak with local politicians in Butovo about the destruction of a local forest in July 2006 (RFE/RL)

IS RUSSIAN DEMOCRACY MANAGING? Russian President Vladimir Putin has said Western powers seek to pressure Russia under the pretext of concern over its democratic development. He has said Russia is ready to listen to "well-intentioned criticism," but will not allow anyone to interfere in its internal affairs. The Kremlin has been criticized for stifling political oppostion, increasing central control over the media, and cracking down on the work on nongovernmental organizations.
RELATED ARTICLES
Concerns Raised About Moscow Chairing Rights Committee
Using Racism Is A Time-Honored Kremlin Tool
Putin Comes Under Fire At Global Media Congress
Oligarch's Case A Sign Of The Times
'Letter Of 100' Warns That Putin Is Suppressing Democracy
A Hard-Line Agenda For Putin's Second Term
Book Says Putin's Russia Falls 'Between Democracy and Dictatorship'
NGOs Denounce Status Changes As Move To Curb Activities
Scrutiny Of Foreign Funds Hurts Democracy Programs
U.S. Official Says Russian NGO Law Part Of Antidemocratic Trend

SUBSCRIBE
For news and analysis on Russia by e-mail,
subscribe to "RFE/RL Russia Report."