Bogdan Klich, a European Parliament member representing Poland, told RFE/RL that he first discussed the idea of nominating Memorial with lawmakers in Warsaw. Klich then won support from other members of the European Parliament.
"This year my colleagues from the European Parliament and I decided to support an organization that stands for European values and democratic standards and defends human rights," Klich said.
Gunnar Hokmark, who represents Sweden in the European Parliament, said supporting pluralism and independent groups like Memorial "contributes to a better Russia."
Hokmark said European lawmakers from Britain, Sweden, Estonia, Poland, Lithuania, and France support the nomination.
The Nobel Prize Committee keeps its official list of nominees secret and refuses to give any hint who is under consideration. Those making nominations, however, sometimes announce them.
The committee is due to announce the winner in October.
(with material from Interfax)
Russia's Democratic Development
Russia's Democratic Development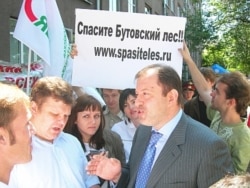 Demonstrators speak with local politicians in Butovo about the destruction of a local forest in July 2006 (RFE/RL)

IS RUSSIAN DEMOCRACY MANAGING? Russian President Vladimir Putin has said Western powers seek to pressure Russia under the pretext of concern over its democratic development. He has said Russia is ready to listen to "well-intentioned criticism," but will not allow anyone to interfere in its internal affairs. The Kremlin has been criticized for stifling political oppostion, increasing central control over the media, and cracking down on the work on nongovernmental organizations.
RELATED ARTICLES
Concerns Raised About Moscow Chairing Rights Committee
Using Racism Is A Time-Honored Kremlin Tool
Putin Comes Under Fire At Global Media Congress
Oligarch's Case A Sign Of The Times
'Letter Of 100' Warns That Putin Is Suppressing Democracy
A Hard-Line Agenda For Putin's Second Term
Book Says Putin's Russia Falls 'Between Democracy and Dictatorship'
NGOs Denounce Status Changes As Move To Curb Activities
Scrutiny Of Foreign Funds Hurts Democracy Programs
U.S. Official Says Russian NGO Law Part Of Antidemocratic Trend

SUBSCRIBE
For news and analysis on Russia by e-mail,
subscribe to "RFE/RL Russia Report."